"BLUE MARBLE"
Images that show the extent of the impact on the Earth is great eye-candy. The Blue Marble Program provides one such resource.
This annotated and navigable image of the Earth at night shows the lights of towns smaller than 1,000 persons. The effort was done in Denmark, hence the start-up location, but it covers the entire world. It is a great piece of work.
https://blue-marble.de/nightlights/2010
NASA - ISS
The International Space Station (ISS) is a high platform from which to view and monitor the artificial light at night (ALAN). Here is a wonderful archive of video footage from the ISS across large swaths of the Earth.
https://web.archive.org/web/20140821183404/http://eol.jsc.nasa.gov/Video...
For each video clip, there is a reference to the frame numbers. High resolution individual frames can be ordered by following the links on the page, and after a few minutes, downloaded for use in outreach presentations.
NASA - EARTH CITY LIGHTS
Images from orbit are primarily produced by NASA. The following web site provides images of various areas of the world. If you are interested in a high resolution wider view, so that you may zoom into your local area, I suggest downloading the 6 MB GIF image (30000x15000).
We suggest you use image processing software to crop the area you want to show. There is a bit of distortion with latitude, so we recommend overlaying the image with a map of your area and stretching the GIF to register the images.
A neat trick is to then have an overlap-dissolve from the the map to the night-lights image. This provides the context and the impact for the ALAN.
https://visibleearth.nasa.gov/view.php?id=55167
IMAGES BY ASTRONAUTS
Astronauts are impressed by the ALAN as much - if not more - than others. Here are a series of images by Douglas Wheelock from the ISS.
Europe
https://farm5.static.flickr.com/4124/5196972891_ff78a23ff2_b.jpg
Southern Italy
https://farm5.static.flickr.com/4088/5197444414_4e9fc42dc8_b.jpg
Greece
https://farm6.static.flickr.com/5242/5196843845_cc986e98c7_b.jpg
Middle East
https://farm5.static.flickr.com/4112/5196972967_2c9961623a_b.jpg
Nile Valley
https://farm5.static.flickr.com/4083/5197444958_2c91b9ee4c_b.jpg
Florida
https://farm5.static.flickr.com/4132/5197573116_aee6e36923_b.jpg
Cities of the World
Berlin at Night
https://epod.usra.edu/blog/2011/05/berlin-at-night.html
LPA Videos
Taylor Russell https://www.youtube.com/watch?v=UdIGJNVUwmE
Jennifer West https://www.youtube.com/watch?v=JJ9aLiy9ucQ&
The Lighted Urbanscape of Montreal
Members of the English and French Montreal astronomy groups in Montreal, Quebec bemoan the trend in their city for more sky glow and glare along their roads. Below is an excellent example of both these forms of light pollution. The location is shown on this map [mont-map.gif]. The camera is pointed north and shows the view from Cote St-Luc where it crosses over the Decarie expressway. Visually, the scene is much worse because low general light levels, the human eye is much more sensitive to glare than Mr. Scattolin's camera.
Photo by P. Scattolin - lens 24mm, ISO 1600, aperture F4, shutter speed 1/8 sec, exposure correction of +2.0 to compensate for the exposure errors introduced by the very bright street lights.
There are several examples of wasteful and perhaps even dangerous lighting.
The whitish sky glow above the buildings is the light from the Blue Bonnet horse race track (2 kilometers away) as it scatters off low cloud. Outdoor sports facilities produce a large amount of sky glow because large areas must be lighted from luminaries mounted around the edge of the property. The design of these luminaires have been optimized for uniform ground illumination with little regard for their impact on surrounding properties. Some facilities even boast that they can been seen for miles. Many Municipalities seem to be intimidated by these commercial establishments and do nothing to curb the nuisance of light trespass and the display of wasted energy in the sky. As motorists drive by outdoor sport facilities, their eyes are temporary blinded by the intense light. This is clearly a roadway hazard that continues to go unchecked. (Fortunately in this case, the lights are turned off when there are no races. Other facility managers are not so careful.)
As you look into the distance along the Decarie expressway, your eyes are dazzled by the roadway lighting as it shines directly into the drivers' eyes and as it reflects off the road surface at a very shallow angle. This glare masks hazards ahead of the cars. This loss of visibility is made worse with rainfall, fog and snow in addition to the car windscreen that may be dirty or pitted with age. For senior citizens (and those that are not so senior) this glare is made worse by the degradation of our eyes as we age.
Light trespass is evident on the walls of the buildings. Since the road way luminaires allow their light to shine upward, it shines into apartment windows all night. This light can be "enjoyed" by those who wish to read their newspapers in bed without turning on their own lights. But, it is hardly conducive to sleeping. Many architects like to use light to show-off their buildings at night. However, this is hardly a proud example of urban architecture (commercial or residential).
Skyline Lighting
Ottawa Skyline

Eastern Ontario Light Pollution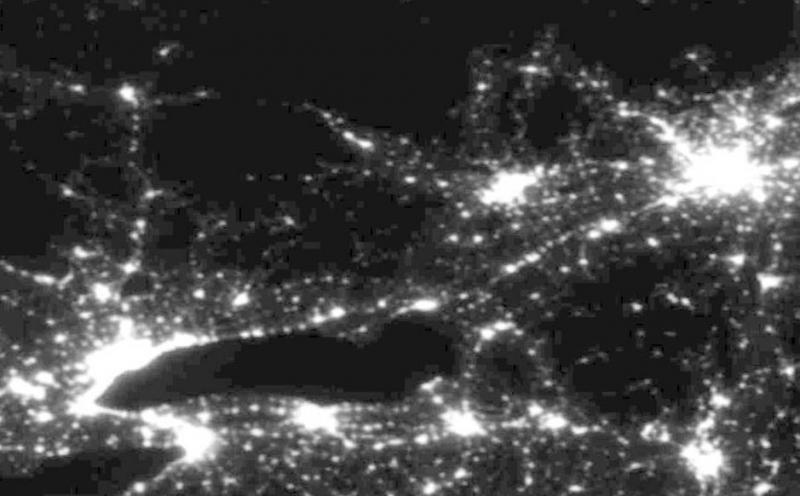 This image is an expanded version from the North America at
Night image looking at the Light Pollution of Eastern Ontario.
If you have examples of good or bad lighting, please send them in for this web site.
International Dark Sky Association
The International Dark Sky Association (IDA) publishes a large collection of information materials to assist groups and individuals pursue their own light pollution abatement programs. Here are a few images from the IDA that may be used in your local programs.
The following images have been provided by RASC members.
Examples of Good Lighting
Two lonely flat-glass cobras in a long line (80k, jpeg)
Hunt Club Road in Ottawa
An industrial Park (65k, jpeg)
University of Alberta (89k, jpeg)
"Almost" Full Cut-off "Shoeboxes" (51k, jpeg)
Examples of Bad Lighting
Extremely Bad Lighting
"Brain Surgery Lighting"
Public and Private Lighting in Conflict (71k, jpeg)
Post date:
Sunday, October 30, 2011 - 10:38am
Last modified:
Monday, April 15, 2019 - 9:55pm