Speaking Topics:
The Sun
Synthesis of Elements in Stars
The Moon and Eclipses
Planetary Motion
Can deliver other talks similar to the above:
Willing to consider creating a custom presentation:
Regional Availability:
Newfoundland and Labrador
Maritime Provinces
Eastern Ontario and Montreal
Central Ontario
Far North
Southwestern Ontario
Northeastern Ontario
Northwestern Ontario
Manitoba
Saskatchewan
Northern Alberta
Southern Alberta
Northern and Central BC
Lower Mainland
Victoria and Sunshine Coast
Target Audiences:
All ages including children
General audiences (adults)
Astronomy enthusiasts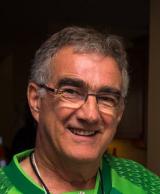 I enjoy speaking to groups on my own experiences, plus I have large collections of my own astrophotos. Explaining how I obtained the images and the equipment I use, plus the importance of choosing a site and time are good topics for discussion. I have three telescopes, all equipped for solar viewing, binoculars, two DSLR cameras and tripods, with a variety of lenses. I've created a few PowerPoint presentations and can readily make others on demand to suit a particular audience.