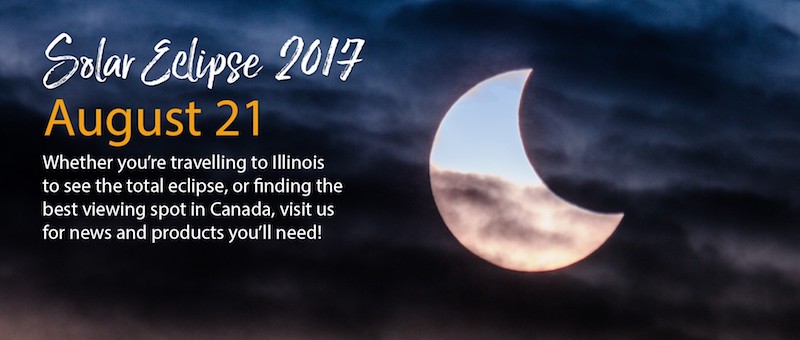 On Monday, August 21, the shadow of the Moon will pass over Canada. The event is a solar eclipse. Along a rather long but narrow path which stretches across the continental United States from Oregon to South Carolina, people will see a total solar eclipse.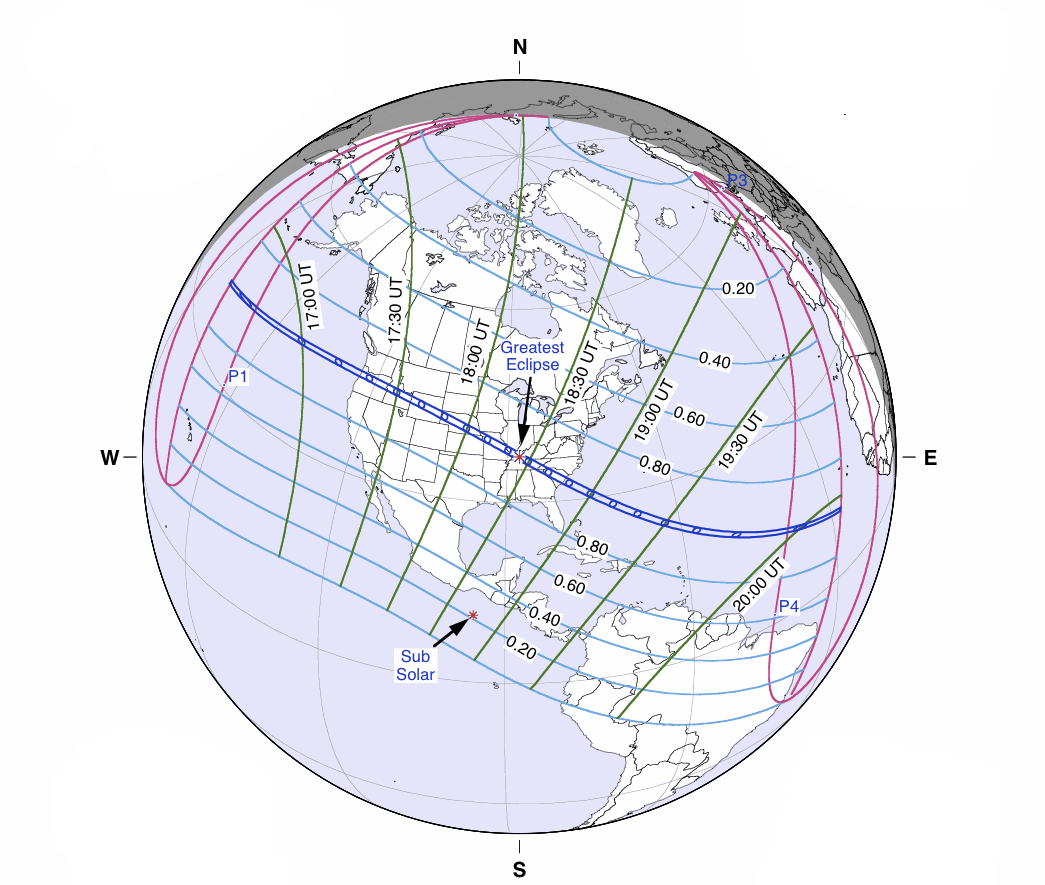 Eclipse path image courtesy NASA/Fred Espenak
Across all of Canada, we will see the Moon cover up a portion of the Sun – a partial eclipse. WARNING- never look at the Sun without proper protection. Use properly made solar viewers such as the ones for sale on the RASC estore. These filters are safe to look through with your eyes only (not to be used with other optical devices such as binoculars or telescopes – just your eyes. See our eye safety page for more information on filters.
Members of the Royal Astronomical Society of Canada plan to set up telescopes on eclipse day to show the various phases of the partial eclipse through telescopes equipped with filters to allow safe viewing.
Be sure to check the centre's web site the day of the eclipse to see if it is a GO or NO GO.
Please note: in case of cloudy weather, the eclipse cannot be seen.
City
Observing Site
Mid-Eclipse
Max
Belleville
Observing Site - Marker Square, behind Belleville City Hall in downtown Belleville from 1:00 pm to 4:00pm
2:34
66.5%
Calgary

TELUS Spark is throwing an eclipse party. From 10 a.m. to 1 p.m., you can make your own eclipse viewer. From 10 a.m. to 2 p.m. enjoy a safe look through telescopes with solar filters. And there will even be a barbecue (for a price) from 11 a.m. to 1 p.m.

The University of Calgary will have a solar eclipse viewing from 10:00 a.m. to 12:30 p.m. in a pop-up observatory in the courtyard on the south side of the Engineering Complex (Area 20) near the Taylor Institute. U of C will also have a remote viewing of the total eclipse as it unfolds across the Continental United States via the internet, indoors, in Engineering Building A, Room 101.

11:33
77%
Edmonton

10:30am - 1pm

RASC Observatory, TELUS World of Science

11:35
68%
Halifax
There are 7 SAFE viewing events in mainland Nova Scotia: Annapolis Royal, Avonport, Halifax (3 places), Liverpool, Musquodoboit Harbour. see http://astronomynovascotia.ca
15:53
48%
Hamilton
14:32
72%
Kingston

For the solar eclipse Kingston Centre will be cooperating with Royal Military College and Queen's University to have several white light and H-alpha telescopes in Confederation Park on Kingston's glorious waterfront across from City Hall from 1 to 4 p.m. for public solar observing of the partial eclipse. This is a major tourist hub in Kingston and we expect an excellent turnout.

14:36
65%
K-W
14:30
73%
London
See http://physics.uwo.ca/outreach/cronyn/index.html
14:30
75%
Mississauga

Partial Eclipse viewing at The Riverwood Conservancy 1:00 - 3:30 pm

http://earthshineastronomy.ca/events/2017/8/11/partial-solar-eclipse-aug...

14:31
71%
CF de Montreal
14:38
58%
Montreal

In partnership with John Abbott College Campus (Oval), Ste-Anne-de-Bellevue

Enjoy the eclipse at McGill University. There wil be solar telescopes set up, as well as free eclipse glasses and a live stream of the total eclipse. The event runs from 1 p.m. to 4 p.m.

There will also be a viewing party at Espace pour la vie where there's free admission to the Rio Tinto Alcan Planetarium.

https://montrealgazette.com/news/local-news/solar-eclipse-where-to-watch...

14:38
58%
New Brunswick

The Saint John Astronomy Club is providing two locations to view the eclipse, which begins at 2:37 p.m. Head out to Irving Nature Park and the Rockwood Park Bark Park.

Fredericton - UNB Campus

Moncton - Resugo Place, 20 Mountain Road

Riverview -- Community Hall, 145 Lakeside Drive.

15:49
50%
Niagara
The Niagara Centre will be having a Public Viewing event for the solar eclipse at Joe McCafferyPark I, 61 Vansickle Road , St. Catharines , Ontario on August 21 , 2017 from 1-4 pm
14:33
72%
Okanagan
10:25
83%
Ottawa

Observing will take place at the Canada Aviation and Space Museum

https://ingeniumcanada.org/aviation

Eclipse! On Monday August 21, 2017, the Moon will pass between the Earth and the Sun, treating the National Capital Region to a partial solar eclipse. This is a rare natural phenomenon and, with help from members of the Royal Astronomical Society of Canada, you can safely witness this event through solar-scopes and Sun-viewers. Meet these passionate astronomical experts and astrophysicist Jesse Rogerson to learn more about the physics of the solar system. Construct your own pinhole camera, which you can then use to observe the Sun.

Telescopes will be set up from noon to 4 p.m., with the eclipse itself occurring from 1:17-3:48 p.m.

14:35
61%
Prince George
10:25
70%
Quebec
14:40
52%
Regina

The eclipse begins at 10:30 a.m. with 75 per cent of the sun covered by the moon at 11:46 a.m. At the Saskatchewan Science Centre, you can enjoy the spectacle with astronomers outside the Kramer IMAX Theatre.

Members of the Regina Centre will have telescopes set up in 3 places in Southern Saskatchewan from 10:30 am to 1:00 pm:

1) Saskatchewan Science Centre in Regina

2) Cypress Hills Observatory in Cypress Hills Interprovincial Park West Block

3) Town square in Eastend, Saskatchewan

11:46
75%
Sarnia
We have worked with the Lambton County Libraries providing them with eclipse viewers and strict usage guidelines. Also provided design info for pinhole solar projectors for hands on projects to make in the library. The solar glasses will be available on eclipse day at various library branches with library staff giving direction on use.
14:28
76%
Saskatoon
Join us to safely view the partial solar eclipse. Projection viewing stations will be available as well as live streaming of the NASA coverage of the eclipse. 10:15 am - 1:00 pm 2323 8th St E. Saskatoon, SK. S7J2P7
11:43
70%
Sunshine Coast
The Sunshine Coast Centre will be setting up solar scopes at Davis Bay at 8 AM on the 21st to allow Sunshine Coast residents to view the eclipse. We'll have solar glasses for everyone.
10:21
86%
St. John's
16:29
31%
Thunder Bay
14:10
68%
Toronto
10:00am to 5:00pm

Who can attend: everyone including non-members
Fee: free, parking fee may apply
Reservation not needed
Location: Ontario Science Centre (In front of the Science Centre on the TELUSCAPE)

https://rascto.ca/content/solar-eclipse-all-day-solar-observing

Mark your calendars! On August 21, 2017, the moon will pass in front of the Sun, giving us the rare opportunity to witness a partial solar eclipse. Join U of T astronomers as we view this spectacle from the fair grounds of the Canadian National Exhibition during the Ex. We'll have eclipse viewing glasses and telescopes for safe eclipse viewing, games and more! Plus, there will be plenty of U of T astronomers to answer all your questions. Stay tuned, we'll provide more details closer to the event!

10:00 am to 4:00 pm CNE Fair Grounds near the Princess Margaret Fountain. This event is sponsored and organized by the Dunlap Institute in partnership with the Canadian National Exhibition

14:32
70%
Toronto
York University Lions Stadium 1-4
Vancouver

Vancouver Centre will be celebrating the August Eclipse at Science World, 1455 Quebec Street, Vancouver from 9 am to 12 noon.

We will be jointly hosting the event with Science World staff. Science World will have live screens showing the Eclipse in real time while

RASC Vancouver will have solar telescopes and eclipse shades to view the partial Eclipse. There is a fee for parking.

Science World is easily accessible via transit and is adjacent to the Main Street Skytrain Station.

10:21
86%
Victoria

Victoria will experience a 90% solar eclipse on the morning of Monday, August 21, 2017 with the maximum at 10:20 a.m.

IMPORTANT SAFETY INFORMATION: Approved eclipse glasses or approved eclipse filters must be used at ALL times when looking at the sun. Serious and irreversible eye damage may result from looking at the sun without approved safety equipment.

Important eclipse planning information

Here are the public viewing sites in the Capital Region that have been identified:

Mount Tolmie Park – RASC members will be at the summit with solar telescopes and eclipse viewers.

Royal BC Museum area – RASC members will be near the museum with solar telescopes and eclipse viewers.

University of Victoria Observatory – UVic is hosting a special public open house at the UVic Observatory (Bob Wright Building – 5th floor) on Monday, August 21, 2017 from 9 to 11:30 a.m. to view the solar eclipse. The eclipse will be visible at 90% coverage from Victoria. The eclipse begins at 9:08 a.m., reaches maximum coverage at 10:20 a.m., and will end at 11:38 a.m.. We will have eclipse glasses for the public to use and share, as well as special solar telescopes which will project an image of the Sun on a small white screen (attached to the telescope) to clearly show the eclipse. Looking at the Sun directly, even during maximum coverage, is damaging to your eyes. We request the public to leave the eclipse glasses behind after use. The event is free and no preregistration is necessary. The observatory will be open for the duration, and you are welcome to come and go as you wish. Please contact the Physics & Astronomy main office at 250-721-7700 if you need any further information. Please note, pay parking is in effect on the University campus. The Bob Wright Building is easily accessible by bus.

10:20
89%
Winnipeg
You'll be able to see about 70 per cent of the sun covered by the moon from the Manitoba Museum from 11 a.m. to 2 p.m. Eclipse glasses will be for sale, but you can also see the partial eclipse from solar telescopes.
12:57
71%
Windsor
14:27
80%
Yukon

Time: 09:00 PDT to 11:30 PDT

Location: Shipyards Park, Whitehorse, Yukon Territory

Visit our facebook page for details.

10:22
50%
Eclipse times, percentages source: The Observer's Handbook 2017 – The Royal Astronomical Society of Canada.