Nicole Mortillaro, Editor-in-Chief
114th year of publication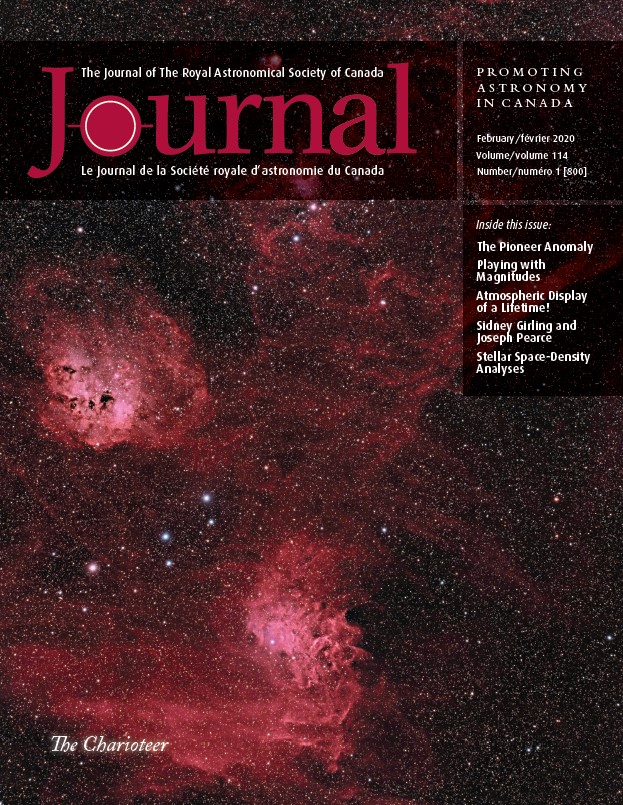 The Journal is a bi-monthly publication of The Royal Astronomical Society of Canada. It welcomes articles on Canadian astronomers and current activities of the RASC and its Centres, research and review papers by professional and amateur astronomers, and articles of a historical, biographical, or educational nature of general interest to the astronomical community. All contributions are welcome, but the editors reserve the right to edit material prior to publication. Authors are encouraged to examine any recent issue or the JRASC Style Guide for guidance as to the style in which the title, abstract, section headings, figure captions, and references are printed.
Research papers are reviewed prior to publication, and professional astronomers with institutional affiliations are asked to pay publication charges of $100 per page. For details, see the Author's Guide. Such charges may be waived for RASC members who do not have access to professional funds as well as for solicited articles. Manuscripts and other submitted material may be in English or French, and should be sent to the Editor-in-Chief whose address is given below.
The annual Production Schedule is at www.rasc.ca/jrasc/editors-corner

The Royal Astronomical Society of Canada acknowledges Canadian Heritage for the grant received for the Journal from the Canadian Periodical Fund Business Innovation for Print Periodicals.
Editor-in-Chief of the Journal:
Nicole Mortillaro
c/o Royal Astronomical Society of Canada
203-4920 Dundas St W
Toronto ON M9A IB7
Canada
Production Manager of the Journal:
There are few technical articles on astronomy, which, if clearly written, have not a real value to the amateur, while the work of the latter is always of interest to his professional brother. There will be room for both in the pages of the Journal. If all unite, the result will be highly creditable to Canadian science.
—C.A. Chant, Editor, 1907
Post date:
Tuesday, May 3, 2011 - 6:47am
Last modified:
Tuesday, May 26, 2020 - 9:24am