Speaking Topics:
Major Migrations: Rearranging the Solar System
Other Astronomical Organizations:
Can deliver other talks similar to the above:
Willing to consider creating a custom presentation:
Starting Airport:
Vancouver International (YVR)
Regional Availability:
Newfoundland and Labrador
Maritime Provinces
Quebec (outside Montreal)
Eastern Ontario and Montreal
Central Ontario
Far North
Southwestern Ontario
Northeastern Ontario
Northwestern Ontario
Manitoba
Saskatchewan
Northern Alberta
Southern Alberta
Northern and Central BC
Lower Mainland
Victoria and Sunshine Coast
Target Audiences:
General audiences (adults)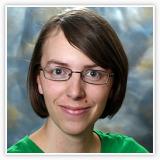 Dr. Van Laerhoven is a postdoctoral fellow at UBC. She gained her PhD from the Department of Planetary Sciences at the University of Arizona in May 2014. Christa has a B.Sc. from UBC in Physics and Astronomy (Honours) and am an ex-president of the UBC Physics Society. Christa is an OSIRIS-REx Ambassador and a panelist on reddit.com's AskScience. Dr. Van Laerhoven is interested in orbital dynamics in general and that of multi-planet extra-solar systems in particular.