Speaking Topics:
Dark Nebulae - How to See Nothing
Trials and Tribulations of a Supernova Hunting Family
Supernova Hunting - Past, Present and Futre
The Gray Valley Observatory - Construction of a Personal Backyard Observatory
Other Astronomical Organizations:
Delmarva Stargazers, AAVSO, IMO
Can deliver other talks similar to the above:
Willing to consider creating a custom presentation:
Regional Availability:
Newfoundland and Labrador
Maritime Provinces
Quebec (outside Montreal)
Eastern Ontario and Montreal
Central Ontario
Far North
Southwestern Ontario
Northeastern Ontario
Northwestern Ontario
Manitoba
Saskatchewan
Northern Alberta
Southern Alberta
Northern and Central BC
Lower Mainland
Victoria and Sunshine Coast
Target Audiences:
All ages including children
General audiences (adults)
Astronomy enthusiasts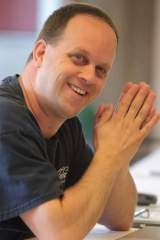 Like many others I have a natural wonder of the night sky. In my case I can first recall at age 4 while driving accross upstate New York looking out the car windows late one night in awe at the many stars in the clear black sky! Later at age 12 I observed my first partial eclipse but it was not till age 15 that I first found the RASC and my interest sky rocketed. As a member of the RASC since 1988 I have expirenced many facets of amateur astronomy. Early on it was deep sky observing with the Messier list starting a long journey of observing many faint and elusive objects. A highpoint has been observing over half of E.E. Barnard's Dark Nebulae visually. A keen meteor observer as well I often arm twisted other members to join me on cold January nights to observe the Quadrantid Meteor shower. Another highlight of my visual observing has been twice seeing 109 of the 110 Messiers in one night, each from latitudes north of 40deg, once from Canadian soil, still a record. Many times over the past 27 years I also have done my share of astrophotography. Starting wth film and now with a DSLR I regularly take photos from my recently built backyard observatory. The Gray Valley Observatory is a small roll of roof shed that houses my imaging mount on a peir and my 12.5" dobsonion for visual observing in a decent dark sky. Supernova have always been a interest of mine and something I had hoped to someday search for and discover. Over 20 years of on again, off again seraching I have been sucessful and have discovered 7 supernova, 1 of which I share with my daughter. My son has also found one in 2013. In my younger years I enjoyed being part of the Canadian Army Cadet's. Leadership skills and public speaking that I learned here has meant I have long enjoyed giving presentations at the Halifax Centre and sharing my astronomy as a planetarium speaker in the Halifax Planetarium. During my time in New Brunswick I also was a member of a Toast Master Club which helped me improve my speaking and presenation skills. Now living back in Nova Scotia my family enjoys the wonders of the Bay of Funday, the Atantic Coast as well as inland camping and canoeing trips. With my wife Susan we try to give our 4 children the chance to expirence all Nova Scotia's many wonders.