Speaking Topics:
Ancient astronomical instruments
Deep-sky objects
Deep-sky catalogues
History of astronomy
Other Astronomical Organizations:
Club des astronomes amateurs de Laval
Email:
pierre@pierrepaquette.net
Can deliver other talks similar to the above:
Willing to consider creating a custom presentation:
Regional Availability:
Quebec (outside Montreal)
Eastern Ontario and Montreal
Target Audiences:
General audiences (adults)
Astronomy enthusiasts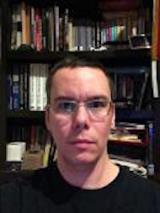 I've been doing astronomy for the past 30+ years, and recently found an interest in astronomy history and ancient instruments. I have made working replicas of astrolabes, quadrants, merkhets, etc. Previously, I have had an interest for astronomical catalogues of deep-sky objects and their history. This brought me to "rediscover" the original Berkeley open cluster catalogue, that authors Archinal and Hynes had not found when compiling their excellent book, Star Clusters (2003). I sent them a copy of the Berkeley catalogue, and my "rediscovery" was mentioned in Sky & Telescope in 2011.