(1885-1973) Saskatoon and Toronto Centre member. Director of the telescope makers group in Toronto. Received the Service award in 1962.
---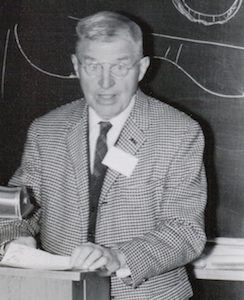 JESSE KETCHUM (1885-1973) Was a great-grandson of the well-known Toronto pioneer of the same name. Raised on a farm near Orangeville, he went west as a young man, establishing a homestead in Saskatchewan in 1907 and later working for the railroad as station agent and telegrapher. His love of astronomy eventually brought him into contact with the Saskatoon Centre of the RASC though following retirement, he and his wife moved back to Ontario and transferred their membership to the Toronto Centre in 1951.
For nearly twenty years he was known to virtually every member of the Toronto Centre as the director of the telescope-makers group. Countless members, young and old, learned the tricks of the trade from Jesse Ketchum. His enthusiasm for his craft was well-captured in a story told by Fred Troyer:
Often asked by a novice -- usually a high-school student -- "What's the best kind of telescope to buy?" Jesse would scowl, "Buy? Such nonsense. Build your own. It's cheaper and it's a lot of fun."
He could always be counted on to be on hand with one or more telescopes for public viewing at the Canadian National Exhibition or on Saturday evenings at the DDO. He spoke on occasion to school classes and Scout groups about his hobby. He was honoured by the Society with the Service Award in 1962, by his country with the Centennial Medal in 1967, and posthumously by the Toronto Centre in the naming of the Jesse Ketchum Award in 1984.
—Peter Broughton (from Looking Up)
Further Reading
Obituary, NNL (December 1973)
Obituary, Scope (Jan 1974)
The Telescope Makers, JRASC (1964 GA paper)