Astronomy Handbook for Teachers
by Mary Lou Whitehorne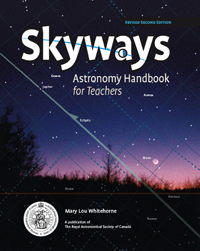 Skyways, the RASC's Astronomy Handbook for Teachers was written specifically for Canadian educators and meets the astronomy learning outcomes outlined in the Common Framework of Science Learning Outcomes (the "Pan-Canadian Protocol"). The book contains instructions for hands-on activities on a wide range of topics including Seasons, Stars, and the Solar System.
Skyways is also available in French under the title
Explorons l'astronomie – Guide pédagogique.
Skyways is:
Canadian curriculum-specific
Pre-tested by Canadian teachers
Hands-on, interactive
Geared for grades 5-12
Fun and easy to use
Cost-effective
Skyways is complete with:
Conceptual background
Teacher information
Student worksheets
Resource lists
Skyways contains sections on:
Seasons
Moon Phases and Tides
Solar System
The Sun
Stars
Constellations
Distance Determination
The Milky Way, Galaxies and the Universe
Telescopes
Canadian Contributions to Astronomy
FAQ's
And more