(1820-1905) D.C.L., Q.C. Served as Vice President of the Society (1892-94), and President (1895).
---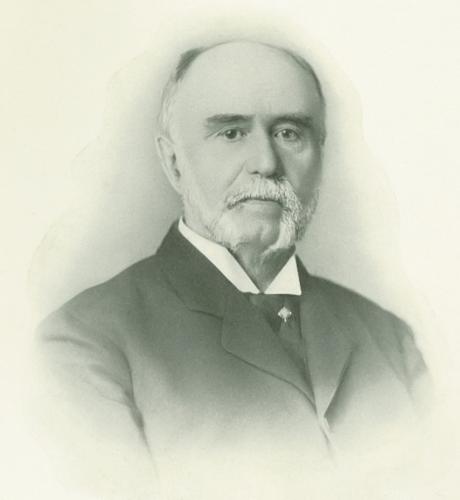 LARRATT W. SMITH (1820-1905), though born in England, was educated in Toronto at Upper Canada College and at the University. His father had been with the Royal Artillery in Canada during the War of 1812 and he himself served with the militia during the rebellion of 1837. Larratt W. Smith had a distinguished career as a lawyer, heading his Toronto firm and serving as the Clerk of the Court of Appeals. He chaired a Royal Commission, was Vice-Chancellor of the U oft twice, was a Director of a number of companies and President of Consumers Gas. He had a large property and house named "Summerhill" near Yonge Street, between Bloor and St Clair. Astronomy was not a big part of his life, though he did write on the daily headings of his diary, notes on the phenomena of Jupiter's satellites, the minima of Algol and so on. Infirmities of old age prevented him from chairing more than a couple of meetings during his Presidency in the Society.
—Peter Broughton (from Looking Up)
---
Obituary
LARRATT WILLIAM SMITH was born at Stonehouse, Devon, England, on November 20, 1820, and died in Toronto on Septem- ber 18, 1905. He was educated at Upper Canada College and King's College. The latter institution was formally opened on June 8, 1843, and Larratt W. Smith was one of the class of twenty-six students who then signed the roll. He received the degree of B.C.L. in 1848 and that of D.C.L. ten years later. In 1843 he was called to the bar and later he was made a Q.C. by the Ontario Government. He was elected a senator and twice was vice-chancellor of the University of Toronto. He was president, in 1895, of what is now the Royal Astronomical Society of Canada and his portrait is the frontispiece for the Transactions for the year 1901.
Dr. Smith had also many other interests. In 1837 he served as a lieutenant in the North York militia and he retained an interest in military affairs. His business connections were many and important, and he was also president of the Imperial Federation League.
Dr. Smith's interest in astronomy was much quickened by his association with the late J. G. Howard, who presented High Park to the city of Toronto, and who gave Dr. Smith an excellent three-inch refracting telescope, which the latter, in turn, presented to the Royal Astronomical Society of Canada.
—from the RASC 1905 Transactions