(1937-) Radio astronomer, JRASC Editor (1976-80), Society President (1988-90).
---
LLOYD A. HIGGS (1937-) is presently director of the Dominion Radio Astrophysical Observatory in Penticton, BC, where he has worked on such specialized interests as planetary nebulae and supernova remnants, recombination lines in the radio spectrum, and the development of software for data reduction. He was born in Moncton, NB, attended the University of New Brunswick and went to Oxford University as a Rhodes Scholar, receiving his D.Phil. degree in 1961. He then began his career in research with the Radio and Electrical Engineering Division of NRC in Ottawa where he worked until moving to Penticton.
Dr. Higgs joined the RASC shortly after moving to Ottawa and took an active part in a number of capacities, including a term as Centre president 1971-72. Always an enthusiastic supporter of the RASC, he contributed many scientific papers and reviews to the Society's publications and edited the Journal with care and skill from 1976 to 1980. His election as the Society's Second Vice-President in 1984 led to a term as President in 1988-90, during which time he spoke at meetings of nearly all the twenty-two Centres.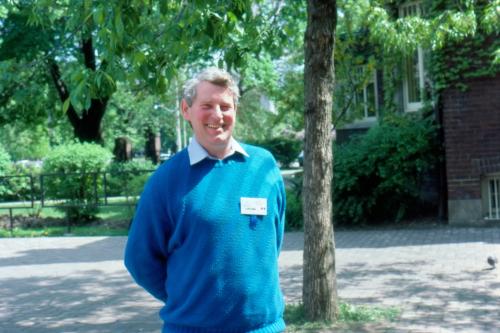 Dr. Higgs in 1987.
As the citation for Higgs' Service Award stated in 1983, few professional astronomers have been willing or able to commit themselves so whole-heartedly to the Society, yet he always gave the impression that he was the beneficiary. On stepping down from his editorial role, Higgs wrote, "the frequent contacts with enthusiastic amateur astronomers were refreshing experiences which never failed to re-kindle my own flagging spirits." There are undoubtedly many amateur members who feel the same way about their encounters with him.
—Peter Broughton (from Looking Up)
Further Reading