Kejimkujik National Park and National Historic Site - Nova Scotia | Dark-Sky Preserve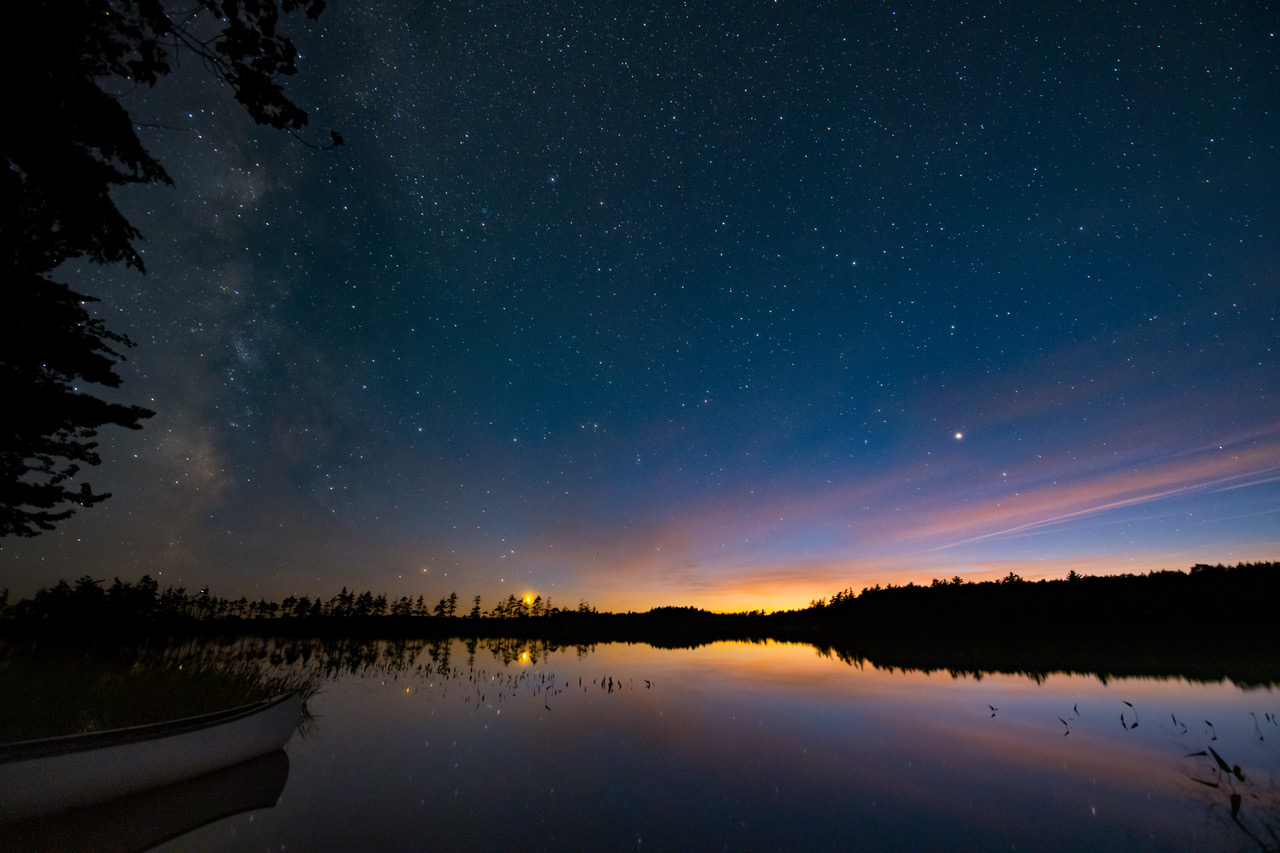 Kejimkujik National Park and National Historic Site received Dark-Sky Preserve status in 2010. The park is located in southwestern Nova Scotia, about halfway between the Bay of Fundy and the Atlantic Ocean (please note that Kejimkujik Seaside, on the Atlantic coast southwest of Liverpool, is not part of the Dark-Sky Preserve).
Part of the Acadian Forest zone, Kejimkujik National Park and National Historic Site encompasses 404km2 and is at the core of the Southwest Nova Biosphere Reserve. It is home to young mixed forests of pine, aspen, birch, maple, and oak, and protects the now rare pockets of old-growth forest that feature towering hemlocks, birches, maples, and beeches. Approximately 178 bird species are present in the park, including the common loon, warblers, barred owl, and woodpeckers. The park is home to 12 fish species, five snake species and three species of turtle, and is also a haven for salamanders, frogs, and toads. Plants include common and rare species of ferns, orchids, and wildflowers. Wetlands in the park provide habitat for species at risk such as the Blanding's turtle, northern ribbonsnake, and Atlantic Coastal Plain flora.
The area of Nova Scotia where Kejimkujik National Park and National Historic Site now lies has been home to the Mi'kmaw people for millennia, and remains of cultural sites including encampments, fish weirs, burial grounds, portages, and trails have been found in the area. There are over 500 individual petroglyphs within the National Historic Site, which visitors can learn about through guided tours.
The focal point of Dark-Sky Preserve activities is the Sky Circle, near Parking Lot 1 in Jeremy's Bay Campground. Within walking distance of all campsites, it is accessed by a 100-metre-long path (lit by red bollards) and has an outhouse nearby. A cart is available for transporting equipment from the parking lot. Electricity is not available at the viewing location. The site is in the northwestern end of a large field with great views to the south and west and good horizons in all directions. Two viewing sites are located at 44°24'24.03"N/65°14'53.30"W and 44°24' 23.22"N/65°14'53.88"W. A typical Sky-Quality Meter reading is 21.5 magnitude/arcsecond2.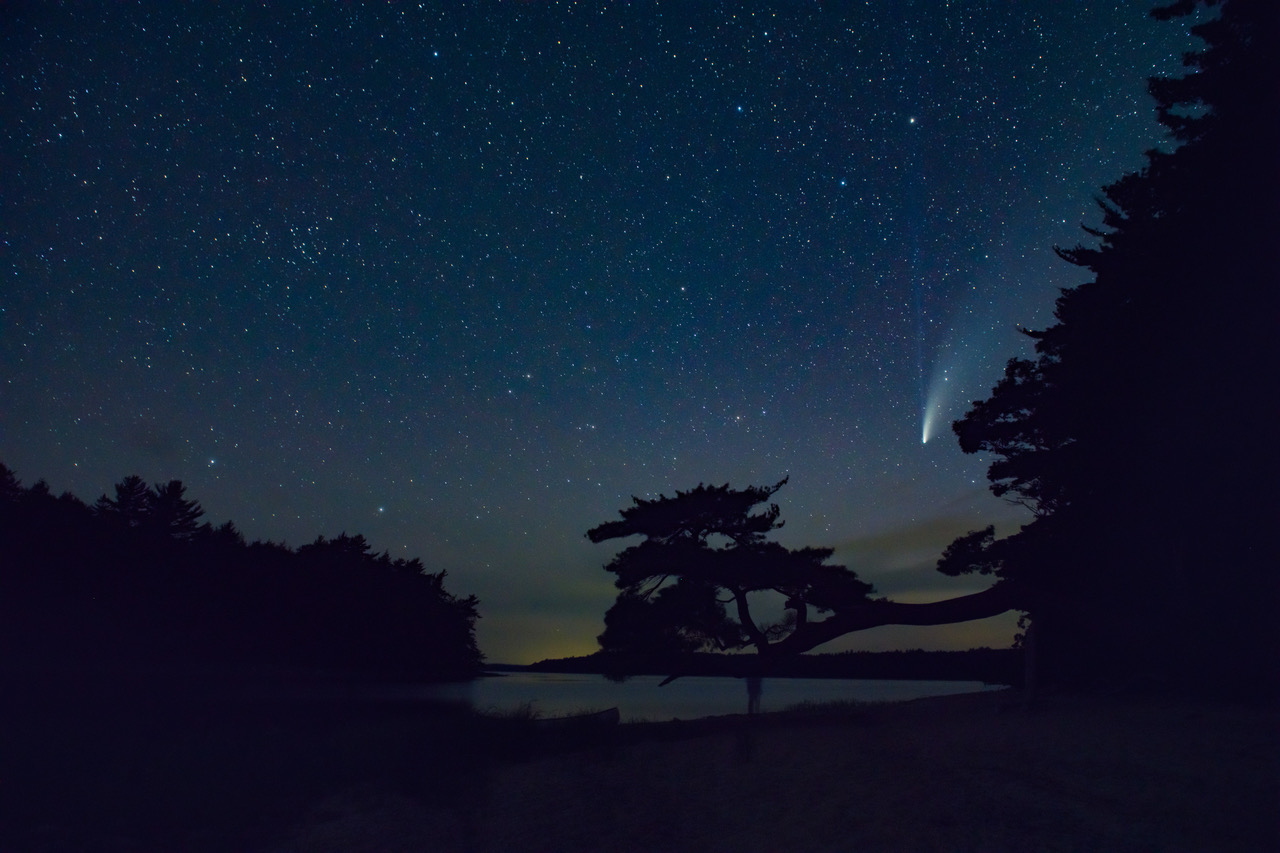 The Sky Circle's central concrete pad is surrounded by seating for public programs. Typically, the Park offers one or two dark-sky programs at the Sky Circle each week, combining night sky stories, a tour of the night sky, and telescope viewing. Dark-sky content is also incorporated into night hikes and evening guided canoe paddles. Visitors can spend a self-guided evening stargazing with rentable dark-sky kits that include binoculars, red light headlamp, star finder, and activities. Parks Canada and the Halifax Centre of the RASC collaborate to host a Dark-Sky Weekend each August, which includes observation, workshops, activities, and presentations. Visitors can check the park's calendar of events for upcoming programs.
The park offers a variety of camping options from May to October at Jeremy's Bay Campground (camping is not permitted November to April), including tents, RVs, trailers, Ôasis, oTENTiks, and rustic cabins. Campground amenities include washrooms, showers, drinking water, and a dumping station. Activities available at the park include hiking, biking, canoeing, kayaking, stand-up paddleboarding, fishing, swimming, and a variety of guided nature and cultural programs. Reservations for camping and roofed accommodations can be made on the Parks Canada Reservation Service.
Kejimkujik National Park and National Historic Site is accessed from Highway 8, which crosses the peninsula from Liverpool to Annapolis Royal. Approximate driving distances are: Halifax - 170 km, Yarmouth - 160 km, Digby - 65 km, Annapolis Valley - 85 km, Liverpool - 65 km. Limited services can be found in the community of Caledonia (17km), and a full range of services can be accessed in Annapolis Royal (48km) and Bridgewater (67km), including groceries, pharmacies, restaurants, fuel, and accommodations.
Post date:
Monday, April 19, 2021 - 4:50pm
Last modified:
Tuesday, September 20, 2022 - 5:50pm