Kejimkujik National Park and National Historic Site - Nova Scotia | Dark-Sky Preserve
Written by Wayne Liebau, edited by Nick Hammar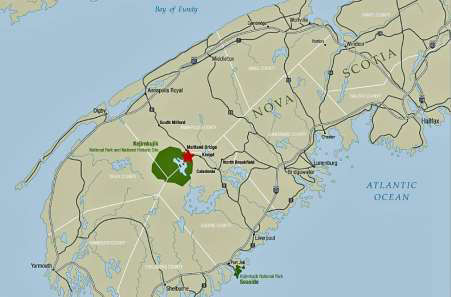 Kejimkujik National Park and National Historic Site has been a Dark-Sky Preserve since 2010. It is located in southwestern Nova Scotia, about halfway between the Bay of Fundy and the Atlantic Ocean. Of note is that the Kejimkujik Seaside, on the Atlantic coast southwest of Liverpool, is not part of the dark-sky site. The site can be accessed from Highway 8, which crosses the peninsula from Liverpool to Annapolis Royal. Approximate driving distances are: Halifax - 167 km, Yarmouth - 190 km, Digby - 86 km, Annapolis Valley - 60 km, Liverpool - 66 km. The nearby community of Maitland Bridge offers a restaurant and general store. Whitman Inn and Mersey River Chalets are also close by. The community of Caledonia (13 kilometres away) has a grocery store, hardware store, pharmacy, and one restaurant. Fuel is available in Lequille (just before Annapolis Royal, 44 kilometres away) and Bridgewater (68 kilometres away). Annapolis Royal and Bridgewater have grocery stores, hardware stores, pharmacies, restaurants, fuel, and accommodations.
Part of the Acadian Forest zone, Kejimkujik National Park and National Historic Site consists of 404 square kilometres of mainly second-growth forest and includes Mi'kmaw petroglyph sites. The site contains hundreds of campsites for tents, RVs, trailers, and group camping, plus some roofed accommodation. The many supporting amenities include a dumping station, EV charging stations, a playground, and Internet access. Hiking trails, canoe routes, and beaches are nearby. It is open year-round, but facilities are much more limited during the off-season.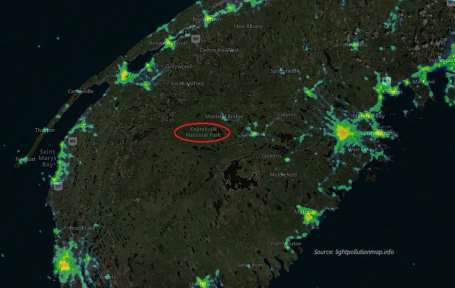 The focal point of Dark-Sky Preserve activities is the Sky Circle, near Parking Lot 1 in Jeremy's Bay Campground. Within walking distance of all campsites, it is accessed by a 100-metre-long path (lit by red bollards) and has an outhouse nearby. A cart is available for transporting equipment from the parking lot. Electricity is not available at the viewing location. The site is in the northwestern end of a large field with great views to the south and west and good horizons in all directions. Two viewing sites are located at 44°24'24.03"N/65°14'53.30"W and 44°24' 23.22"N/65°14'53.88"W. A typical Sky-Quality Metre reading is 21.5.
The Sky Circle's central concrete pad is surrounded by seating for public programs. During evenings when Sky Circle programs are held, the pad is not available for private telescopes, though they may be set up in the surrounding field. Staff can suggest alternative viewing locations if desired. Typically, the Park offers one or two dark-sky programs at the Sky Circle each week, combining night sky stories, a tour of the night sky, and telescope viewing. Because attendance is often high, Interpreters may offer smaller telescope viewing programs on a sign-up basis. Interpreters usually incorporate dark-sky content into night hikes and evening guided canoe paddles.
An interpretive panel at the Sky Circle presents Kejimkujik National Park and National Historic Site as a Dark-Sky Preserve and explains what this means. The Xplorers booklet (for children 6-11 years old) includes dark-sky pages plus activities. Visitors can rent dark-sky kits that include binoculars, a red-light headlamp, and information. The Visitor Guide brochure and tear-off visitor map typically include dark-sky messaging. Parks Canada and the Halifax Centre of the RASC collaborate to present a Dark-Sky Weekend each August: two to three days and nights of observation, workshops, activities, and presentations. The Halifax Centre assists with consultation and the provision of comprehensive programs, outreach, activities, and events. It also tracks compliance with lighting protocols.
Post date:
Monday, April 19, 2021 - 4:50pm
Last modified:
Tuesday, November 23, 2021 - 3:55pm