Kouchibouguac National Park - New Brunswick | Dark-Sky Preserve
Photos: Nigel Fearon Photography / ©Parks Canada / Kouchibouguac National Park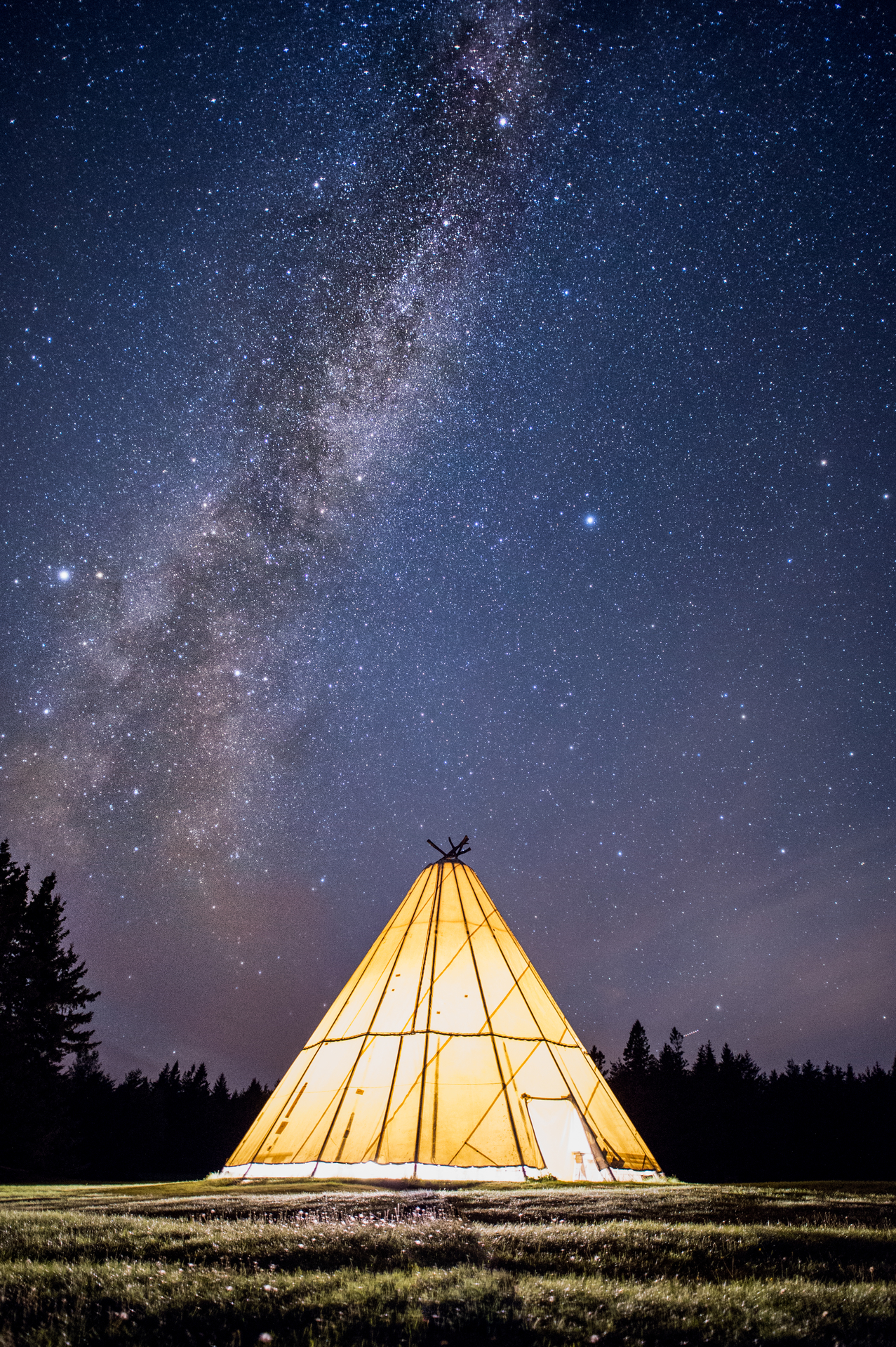 Kouchibouguac National Park was designated a Dark-Sky Preserve in 2009 in partnership with Parks Canada and the RASC New Brunswick Centre. The park lies on the eastern coast of New Brunswick, along the Northumberland Strait.
The 239km2 park features Acadian forest, ocean beaches, bogs, tidal rivers, and open fields. The Barrier Islands are a series of dune systems that shelter estuaries, lagoons, and salt marshes in an ever-changing coastal environment. The park is home to three at-risk bat species, nine rare plant species, the second-largest colony of Common Terns in North America, and several waterfowl species that breed there. Other species found in the park include salmon, eel, piping plovers, ospreys, mussels, crabs, oysters, grey seals, bald eagles, widgeon grass, and eelgrass.
The park also has a rich cultural history. There are over 35 known Mi'gmaq archaeological sites, and visitors can experience Mi'gmaq culture through park programming. Acadian, Irish, and English settlers also lived and worked in the area.
Kouchibouguac National Park boasts fantastic night sky views. Popular viewing areas in the park are Callanders Beach, Kellys Beach, and La Source, which offers a unique stargazing experience featuring stargazing benches, a large-scale planisphere, hammocks, and interpretive panels. The park and the RASC New Brunswick Centre host Star Fests in the spring and fall, where visitors can participate in evening presentations and sky observations, as well as daytime clinics and sun observations. The RASC New Brunswick Centre also sometimes hosts winter telescope sessions.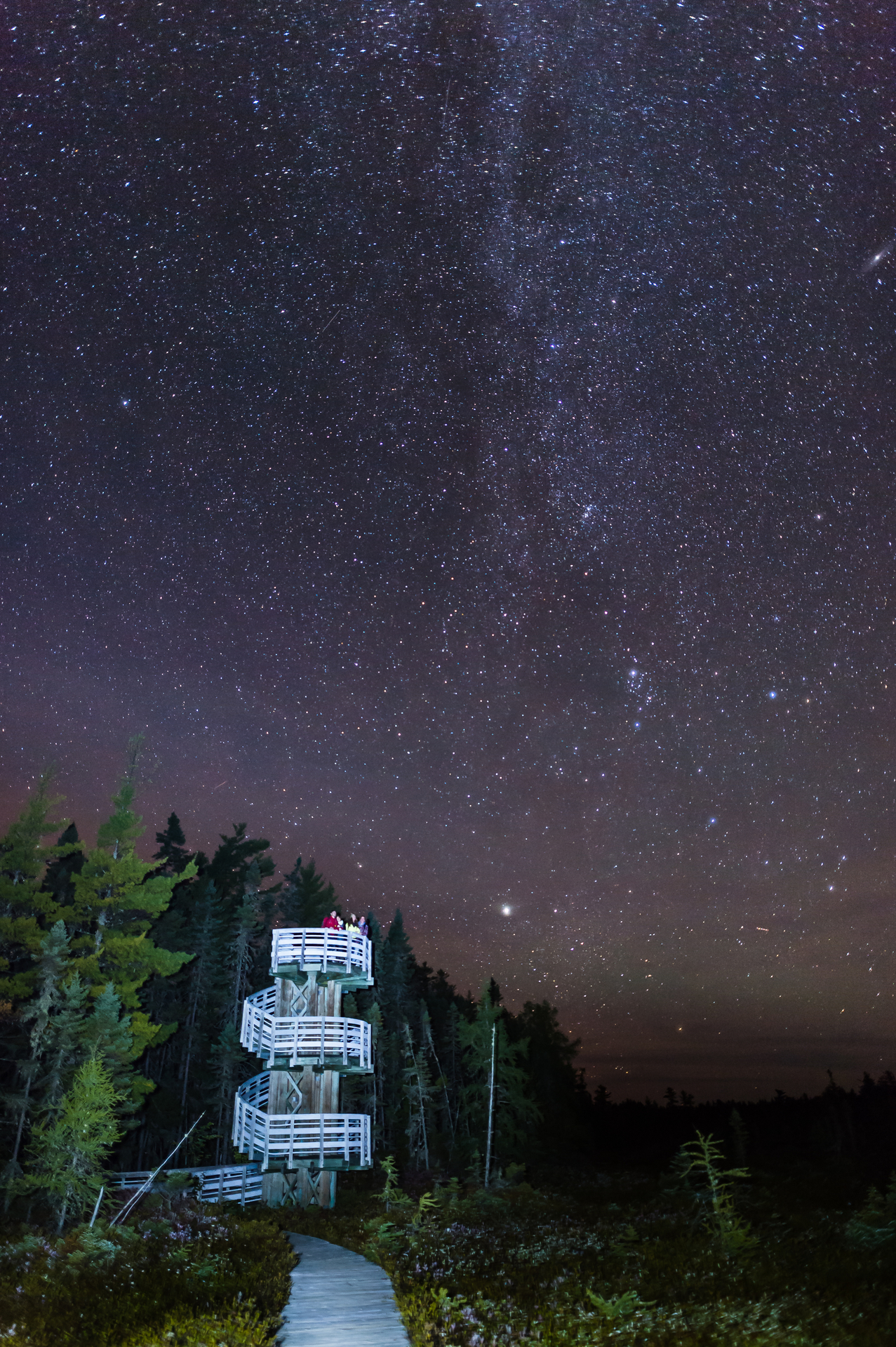 The park has also incorporated dark-sky elements into other programming, including outdoor theatre presentations, Voyageur Canoe outings, Mi'gmaq "Legends of the Night", and campfire programs. Nighttime events have included "10K Under 10 Million Stars," Moonlight Dune Walks, nighttime Family Rallies, and evening snowshoe outings. Visitors can check the park's calendar of events for upcoming programs.
Kouchibouguac National Park offers a variety of accommodations in two frontcountry campgrounds and three backcountry campgrounds. South Kouchibouguac Campground lies along Kouchibouguac River and offers 311 campsites, including 25 oTENTiks (wheelchair accessible and pet-friendly structures are available) and sites for tents, trailers, and RVs. The campground has electricity, sewer, and water hookups, washrooms, showers, kitchen shelters, fire pits, a dumping station, playgrounds, and wireless internet in some areas. Côte-à-Fabien Campground sits in a more isolated area of the park along Kouchibouguac Lagoon and offers 31 campsites, including sites for tents, trailers, and RVs, as well as five Ôasis. Amenities at this rustic campground include outhouses, a hand pump for water, and fire pits. Backcountry campgrounds are accessible either by foot, bike, or canoe/kayak, and offer fire pits, firewood, pit toilets, and picnic tables. Visit Parks Canada's reservation website if you plan on staying overnight in the park.
Accommodations and services can be found in local communities surrounding the park. Saint-Louis-de-Kent (5km from the park's entrance), and Richibucto (15km) offer groceries, fuel, pharmacies, accommodations, and restaurants.
Post date:
Friday, January 21, 2022 - 11:32am
Last modified:
Friday, February 17, 2023 - 8:39pm