Wood Buffalo National Park - Alberta & Northwest Territories | Dark-Sky Preserve
Written by Roland Dechesne, edited by Nick Hammar
Wood Buffalo National Park and UNESCO World Heritage Site was designated as a RASC Dark-Sky Preserve on June 28, 2013, in partnership with Parks Canada. The park is 44,741 square kilometres in size, making it the world's largest designated Dark-Sky Site. The core area of the park has a nighttime sky quality level of approximately 21.65 mag/arcsec2.
The only front-country campsite, at Pine Lake, is also the main astronomical observing site, including a large open-air observing circle for group astronomy and stargazing. Also located at Pine Lake are two rustic log cabins which are available for overnight rental. There is no public access to electricity on the site. Salt River is another designated observing site, however there are no nighttime accommodations nearby.
Because of Wood Buffalo National Park's favoured location along the Earth's auroral oval, even modest geomagnetic activity gives rise to the Northern Lights, or aurora borealis. On active nights however, the sky is alive with colour, as shown here on the night of a Full Moon (Photo Credit: Nicole Mortillaro, CBC News).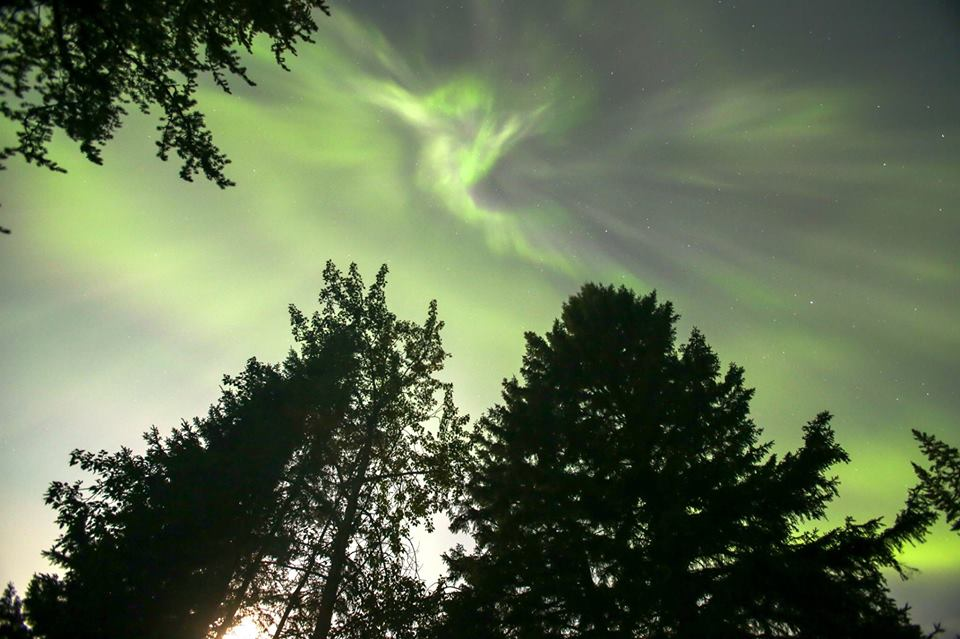 Fort Smith, NWT is located 60 kilometres north of Pine Lake campground, with a population of about 2500. Accommodations such as motels are available there if needed. Many visitors access Fort Smith via air, though road connections are present.
In partnership with the Thebacha and Wood Buffalo Astronomical Society, based in Fort Smith, the park staff host an annual Dark Sky Festival, usually in the third week of August. The Dark Sky Festival is a multi-day affair that includes initial social events, science and astronomy workshops for children and adults, and a keynote talk by a celebrity guest, all hosted within the town of Fort Smith. Proceedings later move to Pine Lake, with guided daytime tours of various natural environments, additional astronomy presentations and activities, and nighttime astronomical observing. Information on upcoming Dark Sky Festival events can be found here.
Wood Buffalo National Park is within the Northern Boreal Plains, Southern Boreal Plains, and Northwestern Boreal Uplands. Beside the eponymous bison (Wood Buffalo), bears, wolves, moose, lynx, marten, wolverines, foxes, beavers, and snowshoe hares all reside within the Park. Common bird species include sandhill cranes, hawks, eagles, and owls. The Park is the only nesting range for the endangered Whooping Crane. Nocturnal birds, such as the Common Nighthawk and owls are subjects of citizen science projects within the Park.
Post date:
Wednesday, April 7, 2021 - 7:02pm
Last modified:
Tuesday, November 23, 2021 - 4:05pm