McDonald Park - British Columbia | Dark-Sky Preserve
Photo: Jerry Meaden, "Star Trails McDonald Park"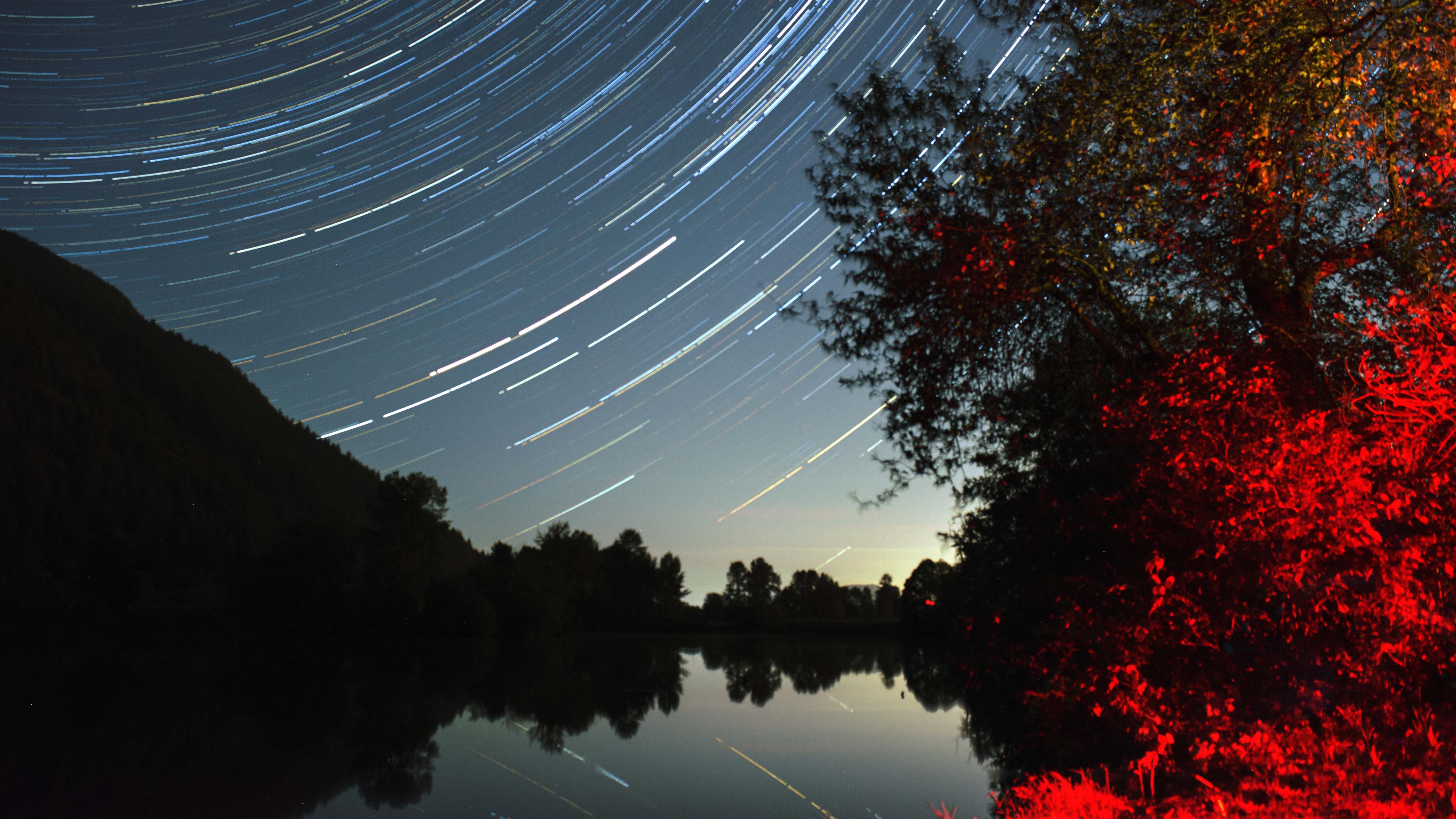 McDonald Park is a civic park within the municipal area of the City of Abbotsford, and was designated a Dark-Sky Preserve on April 7, 2000 in partnership with the Fraser Valley Astronomers Society, the Vancouver RASC Centre, and Abbotsford City Council.
The park is just under 3 hectares in size, bordered by the Sumas River on the northwest side. Beyond that lies Sumas Mountain, home of the provincially-managed Katherine Tye Ecological Reserve and at the summit, Sumas Mountain Regional Park, known for its hiking and mountain biking. McDonald Park is known for stargazing. The mountain acts like a huge amphitheater, blocking off direct light from Abbotsford to the west, Chilliwack to the east, and Mission to the north. The park offers views to the east, west, and south.
The Katherine Tye Ecological Reserve across the river and the region around Sumas Mountain is the largest undeveloped land block in the Lower Fraser Valley between the Important Bird Area at Chehalis River Estuary to the east and the Boundary Bay - Roberts Bank - Sturgeon Bank (Fraser River Estuary) to the west. White Sturgeon are a possible resident in the adjacent Sumas River and have been observed in the Lower Fraser River, a mere 8km downstream from McDonald Park. A 2008 study on White Sturgeon hinted that the species may be nocturnal foragers, and we suggest that light pollution may be detrimental to the feeding habits of these rare and threatened giant fish.
The story of how McDonald Park became a Dark-Sky Preserve can be found on the Fraser Valley Astronomers Society's website. Recent urbanization of the region, and in particular the increasing number of greenhouses in the area, has severely degraded the quality of the night sky in the park. The Fraser Valley Astronomers Society and RASC are working with surrounding municipalities to identify solutions.
Members of the Royal Astronomical Society of Canada's newest Centre, Fraser Valley (synonymous with Fraser Valley Astronomers Society), are welcome to visit McDonald Park for nighttime observing. The observing site is accessible by vehicle. There is no public access to electricity on site. Visitors should note that the park gates are closed at 9pm, and it is strongly advised to leave vehicles outside the gate and pack telescope equipment in and out, so as not to risk being locked in. Visitors should also be aware that the washrooms will be locked by parks staff if no Fraser Valley Centre member is present.
Accommodations and a full range of services are available in Abbotsford (15km) and Chilliwack (18km).
Post date:
Wednesday, April 27, 2022 - 11:29am
Last modified:
Wednesday, September 21, 2022 - 2:46pm