Kouchibouguac National Park has been declared New Brunswick's first Dark Sky Preserve.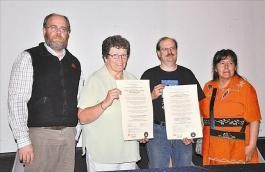 From left to right: Robert Sheldon, Superintendent, Kouchibouguac National Park; Tilly O'Neill-Gordon, MP Miramichi; Dave Lane, President, Royal Astronomical Society of Canada; Marilyn Simon-Ingram, Elsipogtog First Nation.
"In 2009 we are celebrating the International Year of Astronomy. What better way to mark this special year than to declare Kouchibouguac National Park a Dark Sky Preserve," Miramichi MP Tilly O'Neil-Gordon said. "This initiative supports the Parks Canada mandate of preserving ecological integrity of the park while setting the stage for outstanding visitor experiences."
By declaring Kouchibouguac National Park a Dark Sky Preserve, Parks Canada is committing to protect and preserve the night sky by applying strict lighting guidelines to reduce light pollution. The guidelines are tailored to protect ecosystems, reduce energy consumption and maintain dark skies.
Since 2003, Parks Canada has been working in partnership with The Royal Astronomical Society of Canada to establish Dark Sky preserves in Alberta, Ontario and Saskatchewan.
"Our ongoing partnership with the Royal Astronomical Society of Canada will help to preserve the integrity of the night sky in Kouchibouguac National Park, and in other locations across the Parks Canada system, for this and future generations while offering Canadians and visitors incredible opportunities to discover and learn about the stars," Federal Environment and Parks Canada Minister Jim Prentice said.
Parks Canada works to ensure that Canada's historic and natural heritage is presented and protected for the enjoyment, education and appreciation of all Canadians, today and in the future. Through a network of 42 national parks, 162 national historic sites, and three national marine conservation areas, Parks Canada invites Canadians, and people from around the world, to experience Canada's treasured natural and historic places.
In addition, visitors to these New Brunswick attractions take advantage of a two-year fee freeze currently in effect in all national parks and national historic sites managed by Parks Canada.
From the Miramachi Leader
Post date:
Saturday, January 14, 2012 - 4:53pm