Draco – Circumpolar Beast
The dragon of the night is out there. Not behind the bushes at your favourite dark observing site out of town, nor is it hibernating in an isolated cave. The dragon of the night hangs high overhead, wrapped partway around Ursa Minor in the north. With our beasty friend located between the two celestial bears, it never appears to set. Constellations and stars that are visible all year round are called circumpolar.
During my outreach program at campgrounds and parks, the most asked constellation question was about the Big Dipper. But now thanks to the Harry Potter series of books and movies, Draco is the constellation of question. It amazes me how certain characters tend to stick out with children.
Taking a look at some of the bright suns that make up Draco, we see that Rastaban has the same spectral type as our Sun (G2) but is of the giant or supergiant category. Rastaban is roughly the same temperature as the Sun but because of its size, it shines 950 times greater. Rastaban shines at magnitude 2.8 and is 360 light-years from Earth.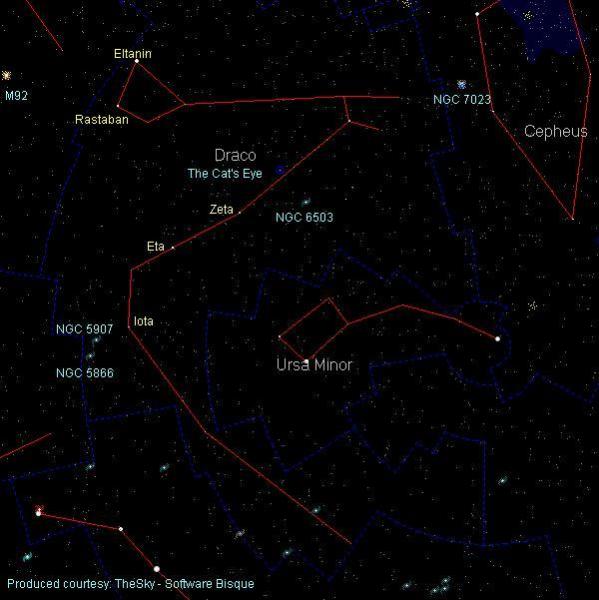 Going back in time, the Eltanin (magnitude 2.2) was considered the pole star. It currently resides 148 light-years away but is on the move – toward our neck of the cosmic woods. A million and a half years from now, Eltanin will pass our solar system by only 28 light-years and rival Sirius in the brightness category.
But not all bright stars are interesting. SAO 29583 is a 6th magnitude star that is 396 light-years from us. Just over three billion years old, it measures about 12 times the radius as the Sun. However, SAO 29583 is not just a star but a parent star to an exoplanet orbiting it. The planet is close to 10 times the mass of Jupiter (super jovian) and orbits once in just over three Earth years.
Not far away from SAO 29583 is Edasich (Iota Draconis) that also has a planet that is about 9 Jupiter masses and orbits in 511 Earth days. There are another four stars in Draco alone that harbours single planets. As of May 31st, the number stands at 425 planets and counting.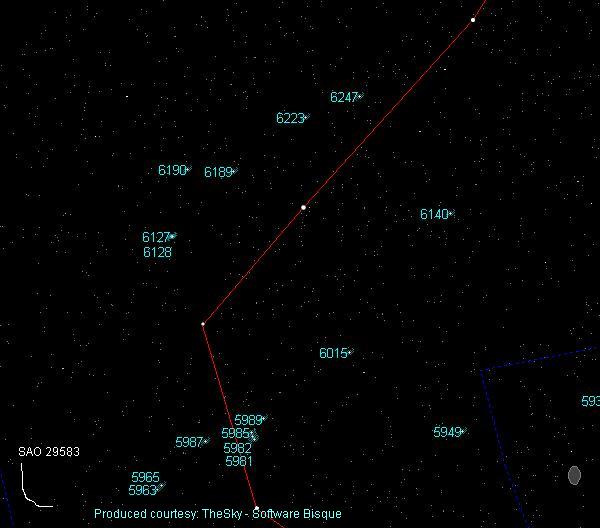 With Draco being so high in the northern sky, we have a good chance to hunt elusive galaxies all year long. A great one, to begin with, is NGC 5965. The near edge-on galaxy reveals a well-defined dust lane. It measures 5.4 X 0.7 arc minutes with an estimated distance of 179 million light-years from us. Now from the 13th magnitude galaxy, nudge your scope one and a half galactic widths to the south and you will stumble upon the 12th magnitude NGC 5963. Both will fit nicely in the eyepiece of a telescope.
| Object | Type | Magnitude | R.A. | Dec. |
| --- | --- | --- | --- | --- |
| NGC 4236 | Galaxy | 10.3 | 12h 16m 41.9s | +69° 28' |
| NGC 5963/65 | Galaxy | 13.0, 12.0 | 15h 34m 0.0s | +56° 42' |
| NGC 6543 | Planetary nebula | 9.0 | 17h 58m 35.9s | +66° 38' |
NGC 4236 is a very elongated galaxy. It is as long as half a full moon and glows at magnitude 10.3. The strange part about this 1.5 million light-year galaxy is the lack of a bright nucleus. There is however a lot of mottling in the spiral arms.
The only planetary nebula located in all of Draco is the Cat's Eye Nebula. Cataloged as NGC 6543 the Cat's Eye resides a mere 3,000 light-years from us. This is what is to come when our Sun uses up its fuel and dies of some 5 billion years from now.
---
Mars is now seen in the western half of the sky. As the first week of June opens we see the red planet fly above Regulus in an easterly direction and will be a little less than two degrees south of Saturn at the end of July. During the month of June, Mars will move some sixteen degrees of sky and set at midnight local time at the end of the month.
Saturn is starting to show its rings system a little more. After its ring crossings when the magnificent system was perfectly lined us with Earth and thus disappeared, the angle is increasing and will keep doing so till they reach the maximum 27-degree tilt in October 2017. After that, the system begins to slowly close till the next ring crossing on March 23, 2025.
The King of planets Jupiter rises at 2:19 a.m. local time in the east at the beginning of June and up by 12:30 by the end of the month. Look for Uranus about one degree to its northeast.
The full moon occurs on June 26, with a partial lunar eclipse best seen in central and western Canada at moonset. And lastly, the summer solstice occurs on the 21st at 7:48 a.m. EDT
Till next month, clear skies everyone.
Post date:
Sunday, January 15, 2012 - 1:57pm