(1911-97) Owner/operator of the Shinn Conservatory of Music; Planetarium Director at the Manitoba Museum of Man and Nature; Winnipeg Centre member; Service Award (1978); National Newsletter editor (1978-80).
---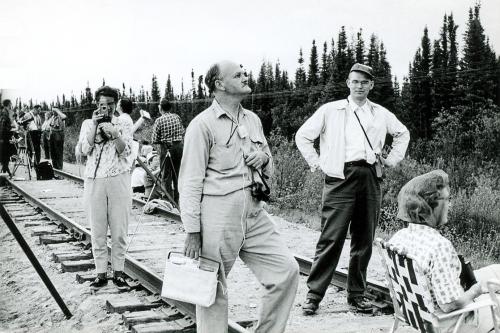 B. FRANKLYN SHINN (1911-97) had two careers. He was first of all a musician. Having graduated from the Royal Academy of Music and the London College of Music in England, he became a church organist and owner and director of the Shinn Conservatory of Music until 1968 when he began his second career as Assistant Director (and later Director) of the Planetarium at the Manitoba Museum of Man and Nature.
Frank Shinn joined the Winnipeg Centre at the invitation of Professor Robert Lockhart in 1954 and soon became a vital force in the Society. He originated the Centre's newsletter (later called Winnicentrics) and edited it for many years; he organized observing nights in Winnipeg parks, spoke at many meetings and was President 1963-66. Hosting two General Assemblies, in '66 and '74, kept Frank and his wife Florence very busy.
As an observer, he was involved in the Moonwatch project starting in the late '50s, contributed to the visual meteor program and to AAVSO in the '60s and later took part in many grazing occultation expeditions. He was an expert in the design and construction of telescopes and models to illustrate such things as comet orbits and binary stars. The heliostat at the Planetarium was largely his conception. His work on a 32 cm mirror for Jack Newton was documented in a film about the project. In 1972 Frank Shinn received the Service Award. In 1978, he moved to Vancouver Island and served on the Council of Victoria Centre. From 1978-80 he edited the National Newsletter and wrote many articles for it himself. In retirement he continued to help as Assistant Editor and as a member of the Editorial staff of the Newsletter.
—Peter Broughton (from Looking Up)
Further Reading