Stellarium software intermediate course
Intermediate Stellarium, level 2 (personal computer).
Part of the Stellarium Training Series.
Learn how to use the Stellarium planetarium software on your computer at a more complex level exploiting intermediate-level features.
Fee: Free to Members of the Royal Astronomical Society of Canada.
Course Overview
Stellarium is a powerful planetarium application available for Windows, Macintosh, and Linux computers. The free software can be used to learn the sky and plan astronomical observing sessions. If logging observations, it be used to corroborate and confirm celestial objects seen. Educators, presenters, and outreach volunteers may use the software for demonstrations, presentations, and What's Up discussions.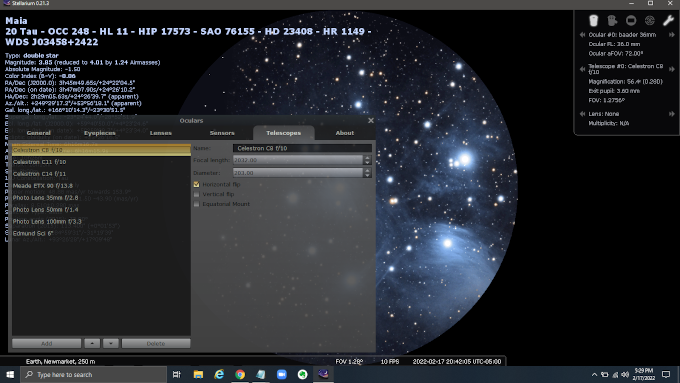 Participants will learn how to load additional catalogues, customise the application including setting up specific locations, load new comets, modify the toolbar, choose landscape textures, use stepping zooming, copy object information, configure eyepiece views, and slew a connected go-to telescope mount to a target. This will provide an amateur astronomer a deeper understanding of the Stellarium program.
Class sizes are limited. A waiting list will be kept if additional participants wish to sign up.
This training is not for the paid Stellarium app on smartphones or the Stellarium web app.
What You'll Learn
Upon successful completion of this course, you will be able to use Stellarium at an intermediate level.
customise Stellarium in various ways
perform time dragging and using alternate zoom techniques
set up for very specific locations on Earth
load new comets
take screen snaps and copy object information
connect to telescope mount
 
What You'll Receive
When you take the software training course, we will provide an electronic document, a PDF version of the Intermediate Stellarium Quick Reference Guide.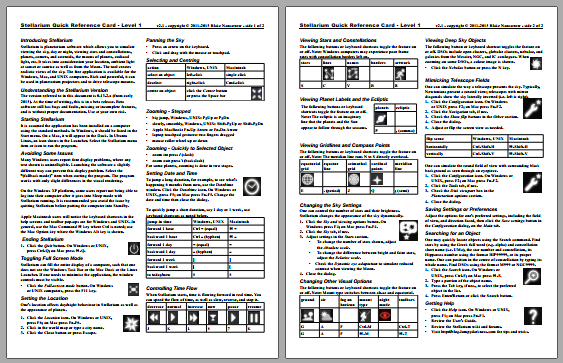 It covers intermediate features of the Stellarium software.
(Not exactly as shown.)
Outline
download additional star catalogues
customise object information display
perform time dragging
use stepped zooming
create custom locations
use pre-defined landscapes
load new comets
configure telescope and eyepiece profiles
take screen snaps
add more buttons to toolbar
copying object information
perform a telescope mount connection and slew (basic)
 
Prerequisites
As this is a level 2 or intermediate level, participants must be conversant with the basic features of Stellarium. See the level 1 introductory course outline for more info. Graduates of the level 1 course qualify automatically. Contact the instructor if you need assistance gauging your level.
You must have a Windows, Mac, Linux computer with the Stellarium installed and working. https://stellarium.org/
This training is not for the paid Stellarium app on smartphones or the Stellarium web app.
You must have the Zoom meeting software installed and working. It is free. https://zoom.us/download
It is best, when participating in a computer training course, that you have two screens. Connect your laptop to an external monitor, if possible. If you do not have two computer screens, consider running the Zoom on your smartphone or tablet to monitor the instructor's shared screen.
It is assumed participants have some minimal knowledge of astronomy, the sky, celestial objects and planets. We will not teach astronomical concepts. This is tool training.
Open mind.
Who Should Attend
This course is for members of the Royal Astronomical Society of Canada. It is one of the many benefits of membership.
If you are not a member of RASC, please join!
This course is intended for amateur astronomers who wish to gain a deeper knowledge of the Stellarium planetarium application. Basic experience and comfort with Stellarium is assumed.
If you are competent at the basics in Stellarium you're welcome to attend.
Ahead of the Course
Ensure Stellarium is working on your computer. 
Procure a second monitor for your computer if possible for the fullest, richest training experience. See our companion video on how to set up your monitors for the training.
Ensure the Zoom meeting software is working on your computer.
If you want to test driving your mount with Stellarium, have mount up and running, balanced, and ready to go. In other words, the mount should be operating as per normal after performing the normal start-up process which likely requires a one- or two-star alignment at a minimum. Have all the appropriate data cables and adapters at the ready.
Upcoming Course Dates
Courses will be scheduled on or near a full Moon.
Thursday 24 March 2022. 7:00 PM Eastern Time. Complete.
Monday 18 April 2022. 7:00 PM Eastern Time. Sorry, full! Waiting list forming... 
May TBD. Waiting list forming... 
June TBD. Waiting list forming...
July TBD.
Please register in advance for the software training course. 
Runs about every other month. You may use this registration form to express your interest and be added to the waiting list... 
The form will prompt you to indicate the next course date you're interested in. You may leave this as "next" to be added to the next available course.
If available space is consumed, we will form a waiting list. If insufficent participants sign up, a course may be cancelled and participants offered the next available date. Minimum: 6. Space is limited to 10 to 15 online participants per session.
Completed Courses
For interest sake, these are the dates and times for the previously-run level 1 courses.
Monday 25 January 2021. 7:00 PM Eastern Time. Complete.
Monday 22 March 2021. 7:00 PM Eastern Time. Complete.
Monday 3 May 2021. 7:00 PM Eastern Time. Complete.
Monday 21 June 2021. 7:00 PM Eastern Time. Complete.
Monday 19 July 2021. 7:00 PM Eastern Time. Complete.
Monday 23 August 2021. 7:00 PM Eastern Time. Complete.
Monday 20 September 2021. 7:00 PM Eastern Time. FULL! Sorry. Complete.
Monday 18 October 2021. Complete. 
Thursday 17 February 2022. 7 PM Eastern. Complete.
Monday 21 March 2022. 7:30 PM Mountain Time. Complete.
Any questions? Contact the administrator (software-training AT rasc DOT ca).
Return to the Stellarium Training Series hub.
Post date:
Thursday, January 13, 2022 - 11:55pm
Last modified:
Wednesday, April 13, 2022 - 11:14pm