About the NGC Catalogue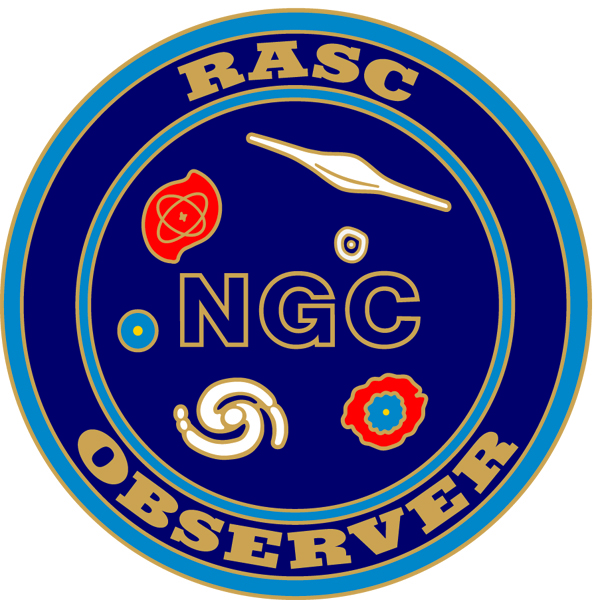 The New General Catalogue or NGC contains 7840 entries and forms the core of most people's "life list" of observing targets. The NGC was originally published in 1888 by J.L.E. Dreyer and therefore predated photographic astronomy. The Finest NGC list, compiled by Alan Dyer and published in the annual RASC Observer's Handbook, complements the Messier Catalogue, as there is no overlap. The list of 110 deep-sky objects includes many fine deep-sky treasures as well as a few some mildly challenging objects.
Here is an overview of the Finest NGC Observing List:
| Type | Number | Notes |
| --- | --- | --- |
| Open Clusters | 12 | Including the famous Double Cluster in Perseus, NGC 7789 in Cassiopeia and NGC 6633 in Ophiuchus. |
| Globular Clusters | 2 | NGC 5466 in Bootes and NGC 6712 in Scutum. |
| Bright Nebulae | 14 | Includes the great Veil Nebula as well as the North American and Rosette nebulae. |
| Planetary Nebulae | 24 | Includes many fine PN's like the Ghost of Jupiter, the Cat's Eye, the Blinking Planetary, the Helix, and the Blue Snowball nebulae. |
| Galaxies | 58 | Includes the amazing NGC 4565 in Coma Berenices, NGC 253 in Sculptor and NGC 5907 in Draco. |
| Total | 110 | |
RASC Finest NGC observing program
The Finest NGC certificate has been awarded since 1995. Observing the Finest NGC list is an excellent project for those who have completed their Messier Certificate and who are looking for a new visual observing program. A 200 mm telescope is recommended to complete the list although it can be done with a 150 mm telescope under good skies. Several Finest NGC objects can be observed in even smaller instruments so these could be used to get started on the brighter objects. With all instruments, a nebular filter will enhance the view of the faint glowing clouds of gas. Objects can be observed in any order.
Note: Some targets are low in Declination. E.g. NGC 253, the Sculptor Galaxy, has a declination of -25° and NGC 6520 aka Collinder 361 in Sagittarius has a Dec of -28°.
Observing Forms
The RASC Observing Committee has created special observing forms to help you complete the Finest NGC certificate program. These Finest NGC observing forms (1.5 MB, 115 pages) will help to keep your observations in one organized file. They feature all of the important data about each Finest NGC object and a generous area for making notes and drawings.
Use the generic application form (PDF, 185 KB) for this visual certificate application. The form has a language of choice option for the Certificate. Indicate your home affiliated RASC centre or "National" or "Unattached" if not associated with a specific centre.
Do not email large files or multiple files to the Observing Committee chair. Ask about our new Uploader Service!
This Observing Program is designed to be an INDIVIDUAL EFFORT. When you complete the program and apply for your certificate, you will have met these requirements: you located the object yourself, made your own observation at the eyepiece, kept your own log book or pre-programmed observing forms, and then applied for your certificate on your own merit. Enjoy your journey through this program!
Contact the Observing Committee chair: observing AT rasc.ca
Other Resources
Here are some recommended resources to help you tackle the Finest NGC Certificate program:
Sky Atlas 2000 - by Will Tirion is an excellent sky chart set that contains all of the objects on the Finest NGC list.
The Night Sky Observer's Guide (Volumes One and Two) - by George Robert Kepple and Glen W. Sanner contains descriptions and finder charts for most of the objects on the Finest NGC list.
The NGC/IC Project - an effort to correct a number of errors from the original catalogue
Observing (bookmark) list files for Stellarium are available at the RASC Toronto Centre web site.
Note: The SkyTools observing list provided by RASC corrects for a number of errors in the default list included with the SkyTools package.
Change Log
12 Jun 2021 - Blake Nancarrow created and uploaded observing list files in SkyTools 3 / 4 STX format. Excel XLSX, and PDF format.
12 Jun 2021 - FIxed bad link to YouTube video.
17 Jun 2021 - Dave Chapman created observing lists for SkySafari as .skylist files. Chris Vaughan created bookmark lists for Stellarium as JSON files. Lists by season. Minor edits by Blake.
19 Jun 2021 - Minor edits to Excel and PDF checklist files.
§