About the Isabel Williamson Lunar Observing Program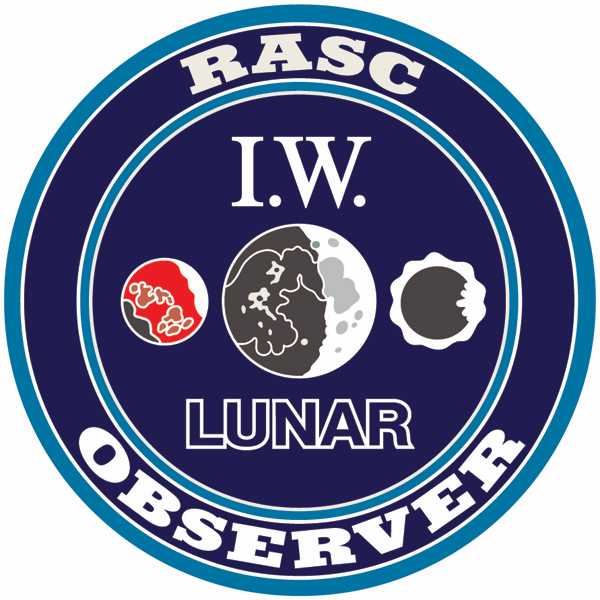 The Moon is by far the most detailed astronomical object to observe through a telescope and the comprehensive Isabel Williamson Lunar Observing Program (IWLOP) will guide you through a complete tour of our nearest neighbour's incredible surface. The program includes many outstanding craters, mountains, valleys, scarps, ridges, and more, not only showing you how they appear, but also describing the history of their formation over four billion years. The RASC Observing Committee created the IWLOP in 2006 as a certificate program for intermediate observers; since then over 25 RASC members have earned their IWLOP certificates and many have provided constructive comments, leading to several minor revisions and corrections to date.
IWLOP guide (Revised 4nd Edition, 2019)
The IWLOP is an educational experience, including a detailed guide with key information about the lunar surface and how to observe it. The guide begins with an overview that outlines the required objectives for earning the certificate (268), and includes extra optional activities such as challenge objectives (178), lunar sketching, lunar astrophotography, craters with Canadian connections (7), and the Lunar 1000 Challenge. A detailed history of the Moon follows, including the various eras that have shaped its surface. Several types of lunar surface feature is described, along with their unique observable characteristics. Optional targets (12) are suggested, visible only during favourable libration periods. The Foreword by David Levy is a testimonial to Isabel Williamson herself, a mentor to David and many other RASC observers, and for whom the program is named.
How to Obtain a Program Guide
Anyone may freely download the IWLOP guide (1 MB pdf). You will also need the IWLOP Logbook (1.8 MB) or some alternate means of logging observations to the same level of detail. (Feel free to print these materials for personal use, and please note that they are copyrighted by the Royal Astronomical Society of Canada.)
RASC Isabel Williamson Lunar Observing Program Certificate
RASC members who have have completed the required objectives of the IWLOP may apply for a certificate and pin as follows: Download and complete the general application form. Extra distinction can be earned for obseving at least 100 challenge objects.
Use the generic application form (PDF, 185 KB) for this visual certificate application. The form has a language of choice option for the Certificate. Indicate your home affiliated RASC centre or "National" or "Unattached" if not associated with a specific centre.
Present your application and observing records to your Centre Executive for validation. Two executive signatures are required on the application form, which should then be sent to the Observing Chair. Alternatively, any member (especially a National Member) may send an application and a suitable copy of observing records directly to the Observing Chair (by arrangement, files maybe sent electronically in a mutually agreeable format). Sending an original logbook is acceptable, at the applicant's risk, but not recommended!
Do not email large files or multiple files to the Observing Committee chair. Ask about our new Uploader Service!
This Observing Program is designed to be an INDIVIDUAL EFFORT. When you complete the program and apply for your certificate, you will have met these requirements: you located the object yourself, made your own observation at the eyepiece, kept your own log book or pre-programmed observing forms, and then applied for your certificate on your own merit. Enjoy your journey through this program!
Contact the Observing Committee chair: observing AT rasc.ca
Resources
The official atlas of the IWLOP is Rükl's Atlas of the Moon, now out of print, but available on the used market (check your public library for a copy). We offer this online substitute, based on the Rükl atlas: Hypertextual Moon Atlas
Charles Woods' The Modern Moon: A Personal View is an excellent resource for the certificate.
Woods and Collins' The 21st Century Atlas of the Moon
More on Isabel K. Williamson JRASC 94, 201 (2000)