RASC—Eyes on the Universe for 150 Years

RASC 2018—A Shared Sky: the RASC 1868-2018
(aka RASC 2018—the history book).
How well do we know ourselves? Viewing our past enables us to see the foundations upon which the modern RASC is constructed, and to build for the future. The better we know the nature, variety, and range of the astronomy experienced within the RASC across time, the better we can know ourselves, and the possibilities for renewal and innovation. Significant anniversaries can provide significant opportunities for reflection, and reassessment. They can also spur new efforts to bring to light stories previously unknown, to complete stories only partially known, and to discern what we've missed in stories we thought we thoroughly knew.
This RASC 2018 initiative aims to celebrate our century and a half of engagement with the heavens, through a fresh look at our history. The results of this project will be presented in two stages. The first stage will  occur at the RASC General Assembly (GA) to be held in Calgary in 2018. It will consist of a symposium spread over the first, and last days of the GA. The invited speakers will present the results of commissioned research on aspects of the RASC's astronomical history, and heritage, through oral presentations, a panel discussion, and interaction with GA attendees. The second stage will be the publication of the results of this research in a multi-contributor edited book, to appear in 2019. This will be one of the chief legacy projects of RASC 2018.
Topics include*:
An Anthropologist Looks at the RASC
Shapers of the tradition I: C.A. Chant and the RASC
Shapers of the tradition II: J.S. Plaskett and the RASC
Shapers of the tradition III: Helen Hogg and the RASC
Styles of Observing SInce 1868
RASC Astrophotography, from Wet Collodion Plate to CCD
Astronomical Expeditions: the RASC in Travelling Mode
Education and Public Outreach in Canada Since 1868
Pro-Am Collaboration through the RASC
The RASC Contribution to Meteoritics
Pushing Glass, Writing Code: RASC ATMs
RASC—Participants and Spectators of the Space Age
The RASC as a Publisher of Astronomy
The RASC & CASCA
The RASC Viewed from Outside Canada
Gender, the RASC, and Astronomy
The RASC Doing History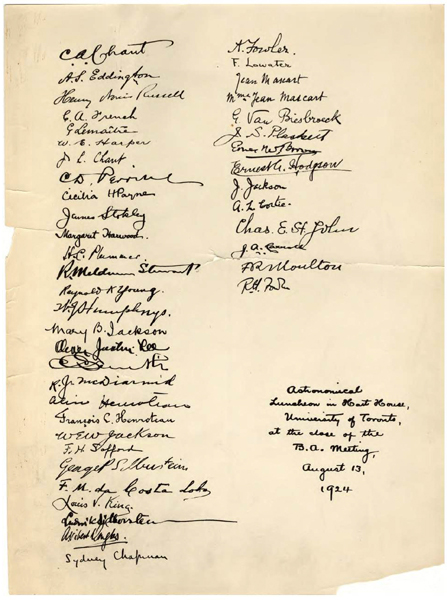 Back of a menu card from 1924 August 13, autographed by the great & the good of astronomy, Hart House, Toronto
For more information, please contact: randall.rosenfeld <at> utoronto.ca
*subject to change
Post date:
Wednesday, November 8, 2017 - 9:41pm
Last modified:
Sunday, February 4, 2018 - 8:49pm