Background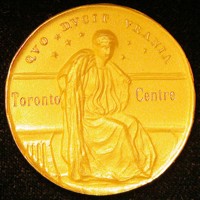 Beginning in 1905, the RASC instituted a Gold Medal for presentation to the top undergraduate student graduating with first class honours from the astronomy and physics department at the University of Toronto. In 1988, the RASC began to offer the Plaskett Award for the top graduate student in Canada and the Society's Toronto Centre has continued the tradition of offering the Gold Medal to undergraduate students since that time.
Many Gold Medal winners have gone on to enjoy a high profile in the Canadian astronomical community and the RASC, including Michael DeRobertis, John Percy and Frank Sawyer Hogg.
The design of the medal is based upon the original Seal of the Society established in 1905.
Recipients 1906-87
1987
Man Hoi Lee
1985
G.A. Drukier
1984
G.D. Starkman
1982
M.J. Gaspar
1981
Tom Box
1979
N. Duric
1978
D.R. Gies
1977
M. DeRobertis
JRASC
1976
C. Rogers
1972
M.J. McCutcheon
JRASC
1971
B.F. Kinahan
JRASC
1970
J. Kormendy
1968
P.G. Martin
JRASC
1967
R.H. Chambers
JRASC
1966
W.A. Sherwood
JRASC
1965
A.F.J. Moffat
JRASC
1963
P.H. Reynolds
1962
J.R. Percy
1961
R.C. Henry
Picture
1960
C.R. Purton
1956
D.C. Morton
JRASC | Picture
1949
I. Halliday
1948
R.W. Tanner
1940
W.F.M. Buscombe
1937
D.A. MacRae
1935
F.S. Patterson
1933
K.O. Wright
Bio
1931
W.S. Armstrong
1929
P.M. Millman
Bio
1926
F.S. Hogg
Bio
1914
G.S. Campbell
1913
E.A. Hodgson
Bio
1911
R.S. Sheppard
1910
R.J. McDiarmid
1909
R.K. Young
Bio
1907
R.M. Motherwell
Bio
1906
W.E. Harper
Bio