The 2012 June 5-6 transit of Venus (ToV) is over, and there won't be another one till 2117! Many RASC members successfully viewed the ToV here and abroad, and you can find the graphic record of the observations―and of the astronomers making them―here.




 




Note: all images are copyright of the attributed photographers and graphic artists, and must not be used without prior permission



Stephen Bedingfield, Yellowknife, Northwest Territories



Left: As Venus neared egress the group had to contend with bands of cloud.  Image taken with a Lunt 60mm hydrogen-alpha telescope, ISO 100, 1/50 sec. (Stephen Bedingfield).
Right: Gord Falconer and Stephen Bedingfield, members of the Royal Astronomical Society of Canada, discuss the Transit of Venus with Dene community members from Behchoko (Doug Hube)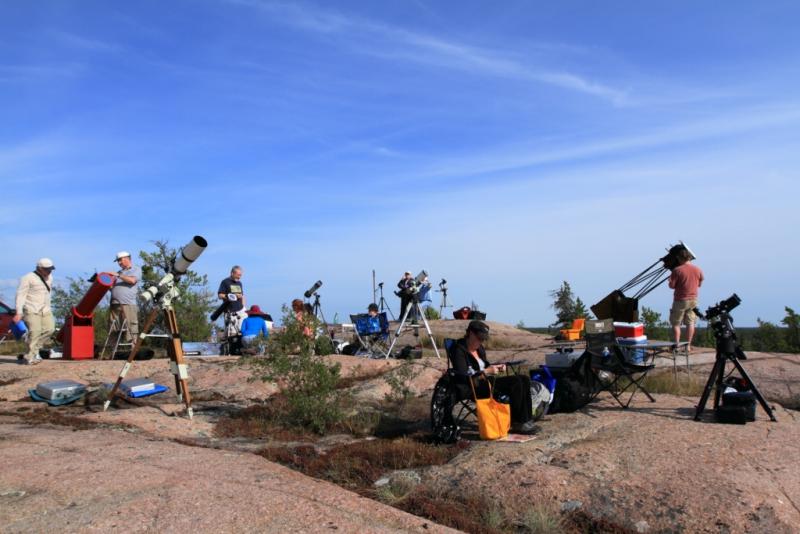 Observers and their equipment at Black's Lookout near Behchoko, Northwest Territories (Stephern Bedingfield).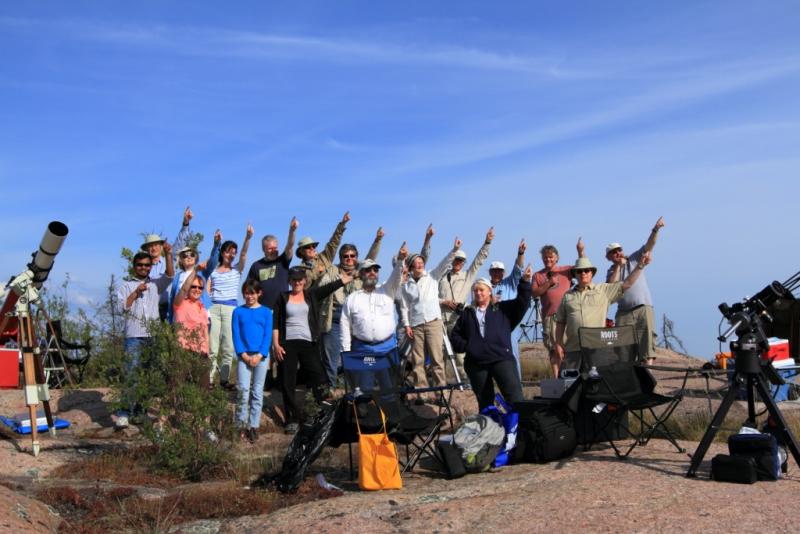 Observers atop Black's Lookout pointing towards the Transit of Venus (Stephen Bedingfield).
Stephen writes:
Attracted by favorable weather prospects, and that the whole of the Transit of Venus would be visible from Yellowknife, Northwest Territories, 21 participants from southern Canada (Alberta, BC and Ontario) and the Unites States (Seattle, Los Angeles, and Washington DC) joined local RASC hosts Lynn and Stephen Bedingfield to observe the event. They arrived by air or drove the 1500 kilometers from Edmonton. Prior to the event, the hosts had surveyed more than ten observing sites along some 400 kilometers of highway in case cloudy weather required relocating. The Explorer Hotel was our planned primary Yellowknife observing site due to its accessibility. However, in the days before, and certainly on the morning of, the Transit the weather models favored a location 90 kilometers to the northwest, near the Dene community of Behchoko. Black's Lookout, our informal name for the hilltop beside the cabin of Alex and Bertha Black, became our chosen observing site. 




The event was a success, as the weather cooperated nicely for most of the 6 hours and 44 minutes of the Transit, except for some cirrus clouds midway and banded clouds towards the end. We were able to observe under good conditions ingress (C1-C2), missing the internal egress (C3), but observing the final external egress (C4). Our decision to relocate to Black's Lookout was vindicated.  Observers were joined at various times by Alex and Bertha Black, Dene elders, and about 30 other community members.




     The Transit of Venus website for this northern astronomical project, consisting of the original planning resources and the results of the event, may be viewed online:  https://skyriver.ca/astro/ToV/2012.htm.
Post date:
Saturday, July 7, 2012 - 2:51pm
Last modified:
Monday, April 13, 2020 - 2:11pm