Stellarium computer software webinar
Webinar on Stellarium
What is Stellarium anyway? What can it do? How is it to use? What does it look like? Can I drive my telescope? Is it really free? Attend the webinar to find out.
This online dedicated webinar is meant to show what the Stellarium planetarium software can do. The computer application is surprisingly rich and powerful and the mobile app is a serious contender. We'll briefly show some of the commonly-used features and then take questions.
Fee: Free to all.
Webinar Overview 
Stellarium is a surprisingly powerful planetarium application available for Windows, Macintosh, and Linux computers. The free computer software can be used to learn the sky and plan astronomical observing sessions. If logging observations, it be used to corroborate and confirm celestial objects seen. Educators, presenters, and outreach volunteers may use the software for demonstrations, presentations, and What's Up discussions.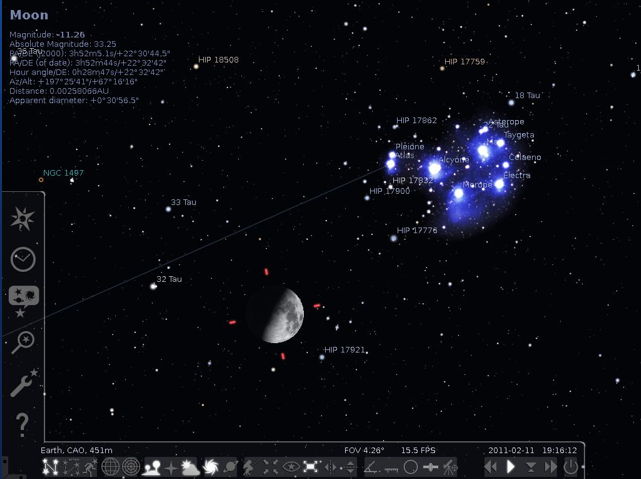 The webinar will focus on the full, popular software program for Windows, Mac, or Linux. It's available at the https://stellarium.org/ web site. The mobile app is available from https://stellarium-labs.com/ site.
We will briefly demonstrate and show the main features of Stellarium.
An open question-and-answer period will follow.
This is a webinar aimed at people interested in the Stellarium software, either completely new to the software, or with some limited exposure. I.e. beginners.
The Zoom webinar size is limited to 100 people.
What We'll Demonstrate
Stellarium for computers is feature-packed so we won't be able to cover everything. The webinar is meant to be light and fast. Still we will show as much of its capability as possible.
very realistic sky presentation, with our atmosphere, sunrises and sunsets, plus light pollution
realistic coloured stars, showing between 600,000 and 200 million stars, including those with exoplanets
some of the 80,000 to more than 1 million deep-sky objects
images of DSOs (full Messier catalogue)
constellations for over 20 different cultures around the world
asterisms and illustrations of the constellations
planets and their satellites, the ecliptic
a realistic Milky Way
artficial satellites above the Earth
simulated surroundings such as one's backyard with custom landscapes
unobstrusive graphical interface and extensive keyboard control
a handy search command
a powerful and rapid zooming
time controls for now, next week, next year, last night
simulated ocular and camera fields and frames
new calculation and planning features
expandability with plugins
As well, we will briefly show the main screen layout from the mobile app.
Duration: about 30 to 40 minutes, for the demonstration proper. Then followed up an open Q&A session.
Prerequisites
You need a device or computer to monitor our Zoom meeting session. This will be delivered via the RASC Zoom account which accepts 100 viewers maximum. The Zoom meeting software is not technically required to watch the webinar. We may conduct polls during the webinar and will encourage all to participate--this requires the full Zoom software. If you want the Zoom meeting software, download and install it in advance. It is free. https://zoom.us/download
As this is not a hands-on training session, you don't need a the Stellarium software.  
It is assumed participants have some minimal knowledge of astronomy, the sky, celestial objects and planets. We will not teach astronomical concepts. This is a software demonstration.
Bring your curiousity.
Who Should Attend
This course is intended for amateur astronomers who wish to gain a sense of what the Stellarium planetarium application can do and to see what it looks like. Little or no previous experience with Stellarium is assumed.
Visual astronomers may want to use Stellarium in planning observing sessions beforehand or during logging afterwards, to check what they saw. Some may want it at the telescope, in red light mode, to corroborate views. Imagers may use Stellarium to plan photography sessions, plan the framing of a target, and to identify objects discovered in the field of view.
Some astronomers want to drive their telescope go-to mount with Stellarium. With the appropriate cabling or wifi connections, necessary drivers, if required, Stellarium can slew to specific targets or a region of interest.
Presenters can use Stellarium to show what's happening in the sky now or in the next few weeks. It's easy to simulate day-time and night-time events, including conjunctions, eclipses. Volunteers involved in education and public outreach (EPO) or teachers may want to use Stellarium to show the sky and teach astronomical concepts. For the absolute beginners, Stellarium can help people learn the sky, learn star names and constellations, watch the night-by-night and seasonal movement of the Moon and planets. RASC members pursuing observing certificates may find Stellarium useful to planning sessions and tracking down targets.
Many astronomers can use Stellarium in a wide variety of scenarios.
It is assumed participants have some minimal knowledge of astronomy, the sky, celestial objects and planets.
After this webinar, people may be interested in taking our formal, instructor-led training courses to learn how to operate the software comfortable, quickly, and competently.
Upcoming Webinar Dates
Every once in a while, we deliver this webinar to expose people to the Stellarium software.
Monday 28 November 2022,

8:00 PM - 9:30 PM Eastern
9:00 PM - 10:30 PM Atlantic
5:00 PM - 6:30 PM Pacific
Duration: about 30 to 40 minutes. For the demonstration proper.
Question-and-answer period following the demo is open but no more than 60 minutes.
Presenter: Blake Nancarrow.
Registration
Registration is required.
Send an email to the Stellarium webinar adminstrator (software-training AT rasc DOT ca).
You will receive the Zoom meeting credentials to allow access to the webinar.
Open to all people.
Notes
This will be delivered via the RASC Zoom account which accepts 100 viewers maximum.
This webinar is not for the Stellarium web app.
This is not a training course for Stellarium; in the webinar with Q&A we demonstrate what the program can do.
For RASC members, we offer full training courses that people can sign-up for. We offer interactive, instructor-led training sessions at various levels, such as our introductory level 1 and intermediate level 2. See the training hub page for our 2-hour courses delivered by professional trainers.
Again, in the webinar, we'll just be showing what the software is capable of. It will illustrate that Stellarium is rich, powerful, and fairly easy to use. Also, we're focusing on the tool; we're not teaching astronomical concepts.
Completed Webinars
For interest sake, these are the dates and times for the previously-run information webinar.
Monday 23 November 2020, 7:00 PM Eastern Time (US and Canada). Complete.
Wednesday 13 October 2021, 8:00 PM Eastern Time. Complete.
Any questions? Contact the administrator (software-training AT rasc DOT ca).
Return to the Stellarium Training Series hub.
Post date:
Friday, January 14, 2022 - 8:02am
Last modified:
Monday, November 14, 2022 - 7:30pm